Welcome. The designs found here are ours alone, found nowhere else, until you purchase or create your own. Explore the designs as they were originally imagined, and click on your favorites to learn more about their history, modifications, and new iterations. We hope you find inspiration and excitement for your next jewelry purchase.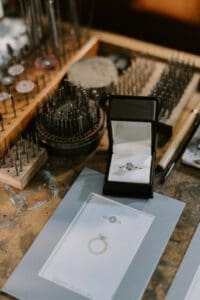 Make an appointment with a Design Specialist
Creating a custom piece of jewelry is a special and memorable experience. For over 50 years Brown Goldsmiths has helped create lasting symbols of love through the art of jewelry making to celebrate Weddings, Engagements, Birthdays, Anniversaries, Graduations, Mothers and Fathers Day, Retirements and more. Let a Brown Goldsmith design specialist guide you on your journey of finding the perfect design for you or a loved one.