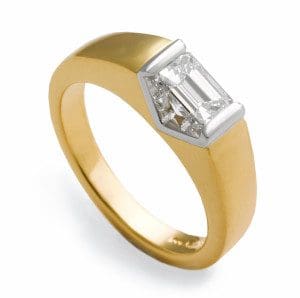 Originally crafted in 2003 with impeccable artistry, the Horizon Ring combines the timeless beauty of diamonds with the elegance of 18K gold and platinum.
The unique "east-west" gem placement distinguishes this ring and exudes an understated charm. The diamond, and star of the show, is expertly showcased in a sleek V-shaped setting that gracefully accentuates its brilliance and allure. Carefully crafted to sit low on the finger, this ring offers versatility and protection, ensuring effortless wear.
In our workshop, each Horizon Ring is individually tailored to perfectly fit the specific diamond it cradles, providing an impeccable fit and a harmonious blend of form and function. This attention to detail guarantees that every ring is a true work of art, ideal for those who appreciate thoughtful, everyday luxury. Nearly two decades later, we have reimagined this design with the New Horizon Ring, offering a lighter design with diamonds in the band.