Be a Part of Treasured Moments
Brown Goldsmiths is located in the heart of Freeport, Maine one block from LL Bean. We are an independent jewelry store focused on heirloom quality and custom jewelry design with goldsmiths, designers, gemologist and appraisers on staff. Client relationships and quality jewelry have been the key to our business success for 55 years.
We are always looking to grow our team. Whether you have sales knowledge, jeweler experience, or simply love the idea of working with fine jewelry, we would love to hear from you!

Competitive Salary
We offer a salary that is competitive within our market. In addition, we offer a team and individual bonus structure.

Predictable 5-day Workweek
Our store is open Tuesday through Saturday every week. This allows for every employee to have a 2 day weekend with a 3 day weekend monthly.

Supportive Team Environment
As a small business, our team is small but mighty. We encourage and assist each individual in their job to ensure success. In short, just like family, we look out for each other.

Education Opportunities
Even if you have limited knowledge of sales, jewelry, gemstones or metals, there are plenty of avenues for you to enhance your training. We are happy to help you pursue education in our industry.

Employee Discount
Temptation is very real when surrounded by diamonds and beautiful gemstones every day. We are happy to offer a savings on our jewelry to our employees so they can treat themselves!

Full  Benefits
When we say full benefits, we mean it. From medical, dental and short term disability to 401K plans and profit sharing, we strive to make you comfortable  in all areas of your life.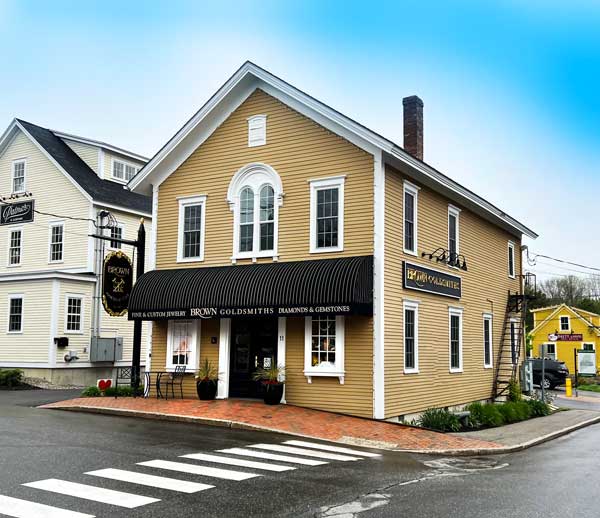 In The Heart of  Freeport, Maine
We invite you to learn more about the special history of Brown Goldsmiths and how a Freeport couple turned their small business into the revered woman-owned establishment it is today.