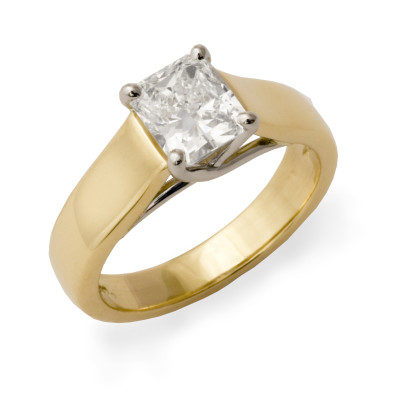 Ten miles off the coast of Maine is a spellbinding island. Its' serene setting and sweeping views are well known to artists all over the world. It became our inspiration for the Monhegan Ring, crafted by our skilled artisans in late 2006.
At its heart, a singular diamond takes center stage, radiating with brilliance and allure. Nestled within a crisscross prong setting, the diamond stands tall, embraced by the delicate prongs. Our Monhegan Ring is more than just a work of art; it is a symbol of love that harmoniously blends timeless elegance with modern sensibilities. The wide band provides strength and stability, allowing for comfortable wear while flawlessly accentuating the splendor of the diamond for years to come.
Each ring is made to order with meticulous attention to detail, ensuring that your Monhegan Ring is a unique masterpiece where practicality meets elegance, and love is celebrated in its most dazzling form, exclusively for you.