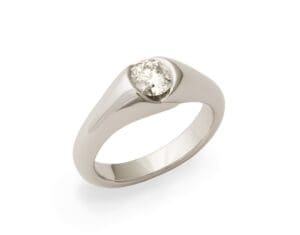 Introducing the Lotus Ring. This design showcases a stunning round diamond or gemstone cradled within a protective partial bezel setting. With its sleek simplicity and a touch of elegance, this ring reveals a delicate overlapping pattern reminiscent of a blooming lotus flower when viewed from the side.
Originally conceived in the early 1990s, the Lotus Ring was born as a solitaire engagement ring option. Crafted with active individuals in mind, this ring is built to withstand the rigors of daily wear, ensuring a lifetime of enjoyment. Its popularity grew immensely, leading us to offer various size options to accommodate a wide range of exquisite gems and diamonds.
The Lotus flower holds deep symbolism for people across the world, representing purity, resilience, and strength. Drawing inspiration from this timeless symbol, we created the Lotus Ring as a testament to these enduring qualities.
The Lotus Ring and The Remember Ring
The Lotus and Remember rings are two of our Signature designs.  Shown here in platinum with diamonds as a wedding set. The Lotus can be made in gold or platinum.