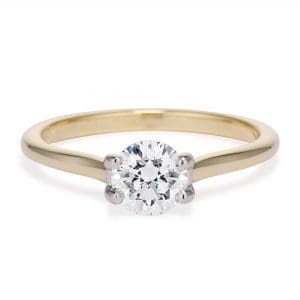 Introducing the Viisi Engagement Ring. This elegant design holds a captivating secret—an artfully crafted hidden "V" symbolizing the Roman numeral 5, visible from the side view.
Inspired by the timeless tradition of the Five Pillars of Marriage, the Viisi Engagement Ring represents the fundamental principles that form the strong foundation of a lasting union: Love, Trust, Respect, Understanding, and Faith. Each pillar intertwines seamlessly, symbolizing the profound bond shared between two souls committed to a lifetime of love and partnership.
Created in 2021, this engagement ring is designed to be worn with a straight wedding band, ensuring a perfect pairing. It's also an exceptional choice to commemorate a remarkable five-year milestone, such as a 5th Anniversary celebration.
Platinum Viisi Ring with a diamond band.
The Viisi is made as a solitaire to hold a single diamond or gem. For those who like a little more sparkle, we also offer a diamond band like the one shown here.
The sweet symbolism of the Viisi can be seen from it's side view.
The Viisi Engagement Ring resonates with an intriguing connection to Finnish culture as "Viisi" beautifully translates to "five" in the Finnish language. This additional layer of meaning adds a touch of cultural richness and international flair to this simplistic piece.
Large Two-tone Viisi Ring
Larger diamonds sometimes require a bit more to keep them safe. This two-tone Viisi ring has been modified to securely hold the larger diamond center by doubling up the prongs. A slight visual change yet a significant one for the safety of the diamond. Available in Platinum, 18k & 14k gold (white, yellow or Rose) with or without diamonds set into the band.