Tucked above our comfortably elegant showroom is the jewelers studio where magic happens.
At least, that's what some people think. In fact, it's where we practice our craft.
For many generations, the people of Maine have been justly respected around the world for the creativity, dedication, knowledge and experience we bring to making things. Shoes, boats, clothing, music, beer, fishing, paper, and, yes… jewelry. Whatever we put our minds to, we do it well. Perhaps better than anyone. (Though, we rarely boast about it.)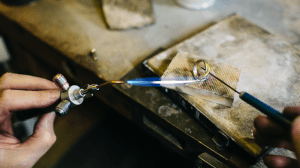 Our on-the-premises workshop is one thing that makes us unique. Much of our jewelry is designed and made, from start to finish, upstairs in our workshop.
The next time you're in town, we invite you to stop by and tour the shop.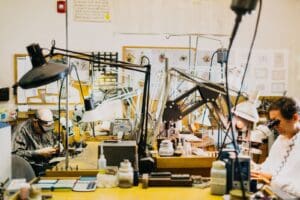 Customers usually find it fascinating to discover how jewelry is made.
See our model-maker's room where wax models are designed and carved in preparation for lost wax casting. Discover how a ring can be resized. View hundreds of wax models. Watch a craftsman hand-forge one of our signature gold earrings. Listen to one of our bench technicians describe how he hand-fabricates and solders the settings to our signature Cradle Ring with platinum wire. Find out how our high tech laser welder is used to make a tricky repair. See how we craft our heavy, handmade Crown Knot™ chains.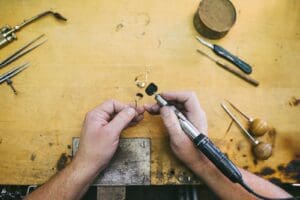 After all, hearing about the technical process can be pretty dull for most. Seeing the workshop magic first hand can be exciting.
The more you know, the easier it is to make an informed decision.