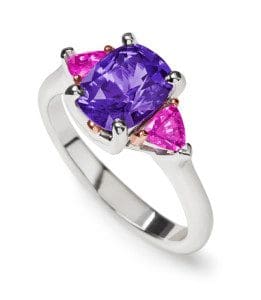 Originally created in the mid-1990s, the Lyric Ring was initially designed as a stunning right-hand ring, showcasing the enchanting color combination of Tanzanite and Tsavorite. Every intricate detail had been carefully crafted, with triangular side gems gracefully accentuating the brilliance of the centerpiece.
As its popularity grew, our customers expressed their desire for the Lyric to be available as an engagement ring option. We now offer variations adorned with exquisite Sapphires and/or Diamonds to meet their wishes.
The Lyric Ring can be tailored to your preferences, available in your choice of all gold, all platinum, or a combination of both. Indulge in the harmony of elegance and individuality with a Lyric Ring that captures your unique style and celebrates the beauty of your love story.
Lyric Ring with Tanzanite & Diamonds
A more classic look, for the Lyric, pairs a beautiful gem center with diamond sides.
Tanzanite and Tsavorite Lyric Ring
The original Lyric ring showcased the striking color combination of blue and green.
Sapphire and Diamond Lyric Ring
This platinum Lyric Ring with Sapphire and Diamond can be worn as a right-hand or engagement ring.