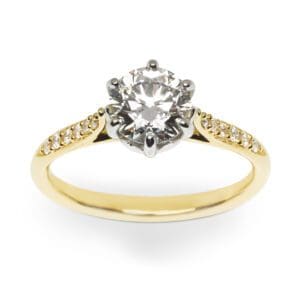 The Jubilee ring represents an exquisite choice for engagements or anniversaries. Its design dates back to 2017, specifically created to celebrate the momentous occasion of our 50th anniversary and golden jubilee, rendering it as both a beautiful piece and a symbol of historical significance. Only two designs in the collection showcase the coveted "secret golden sapphire," a rare and precious gemstone that imparts an unmatched touch of luxury to this exceptional ring.
At the heart of the ring lies a stunning diamond, delicately placed within a platinum 6-prong cathedral setting. The diamond's radiance is further accentuated by the intricate petal-like detail nestled between the six prongs, while the band sparkles delightfully with pave-set diamonds. This meticulous craftsmanship ensures a timeless and elegant design that will endure through the years.
The Jubilee offers versatility as well, with options for an all-platinum setting, 14k gold, 18k gold, or a combination of these materials. This allows you to create a truly personalized piece tailored to commemorate your cherished milestone.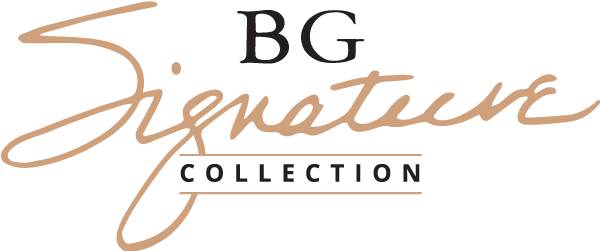 Jubilee Cushion Halo
Jubilee in platinum with a cushion shape diamond & halo.
Jubilee side details
Our Jubilee features elegant petal like details under the center diamond.
Oval Jubilee
Our Jubilee ring can be modified for almost any shape. Here is an example of an oval center diamond.
Rose Gold Jubilee
This Jubilee is also available as a classic solitaire. Here is an example made with rose gold.
The Halo Jubilee
This Jubilee ring features a cushion-shaped blue sapphire in all Platinum with a diamond halo.
Custom Jubilee
This Jubilee features a double-row diamond band and an emerald cut center. Imagine the possibilities.
Jubilee diamond pendant
The Jubilee diamond pendant, an elevated design for a diamond pendant.
The Jubilee diamond earrings
To complete this family of designs, we created the Jubilee earrings.