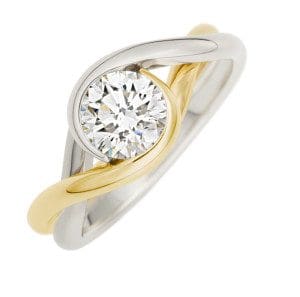 In 2008, we created the Embrace Ring, a unique design representing two individuals in a relationship. It symbolizes love and togetherness and has become one of our Signature designs. It's ideal for active lifestyles and can hold a diamond or gemstone without prongs. Since its creation, we have developed many variations of this design to cater to our customers' diverse tastes and preferences. We are delighted to showcase a few of our Embrace ring versions here, and our custom design gallery also has an extensive collection of other customized versions.
The Embrace Ring is made in a range of exquisite materials, including Platinum, 14k & 18k yellow gold, white, and rose gold. We can customize an Embrace with most colored gemstones, such as Maine Tourmaline, to make it even more unique and special.  The Embrace Ring is a testament to our dedication to creating timeless and exquisite jewelry pieces that our customers can cherish for a lifetime.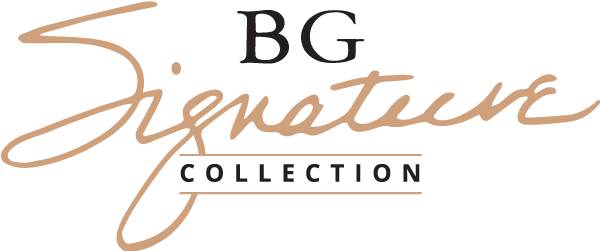 The Classic Embrace
Although our favorite is the Signature two-tone, the Platinum Embrace set with a round Diamond has also been a customer favorite.
The Classic Embrace in gold
Like all Platinum, the Embrace is made in all yellow gold. Choose 14k like shown here or 18k yellow gold.
Tourmaline Embrace
This 18k yellow gold Tourmaline Embrace was also modified to hold two small bezel set side diamonds.
Sapphire Embrace
This Platinum Embrace features a stunning blue Sapphire with diamonds in one strand on each side, adding sparkle and accentuating the beautiful curves of the design.
The Petite Embrace
The Petite Embrace is narrower and feels slightly lighter than the original. Each strand is made thinner to create a more petite version. Shown in Platinum with a round diamond.
Loves Embrace Pendant Necklace
Loves Embrace is a sentimental addition to our Embrace family of designs. This heart-shaped pendant elegantly cradles a sparkling diamond in gold. Choose yellow, white, or rose gold. A beautiful gift choice for many occasions, such as a 16th birthday, anniversary, graduation, or Mother's Day gift.
The Sweet Embrace Pendant Necklace
Originating from our popular Embrace Ring design. The Sweet Embrace is a single strand of precious metal that gently curves from top to bottom, embracing a sparkling diamond, like holding one close in an embrace. Beautifully simple yet symbolic. Made in yellow, white, and rose gold.