Description
Diamond studs add a subtle note of beauty, and an alluring touch of sophistication to anyone wearing them. We are thrilled that our diamond stud portfolio has grown to the largest selection we have ever offered featuring 3 quality collections. Our Elegant collection features three-prong martini style stud earrings in white gold.
Always perfect, with blue jeans and a ball cap or a ball gown.
The Elegant collection features a 3-prong Martini style in 14k white gold:
.10 carat total weight – $199
.25 carat total weight – $499
.30 carat total weight – $599
.40 carat total weight – $699
.50 carat total weight – $999
.60 carat total weight – $1399
.75 carat total weight – $1899
1 carat total weight – $3499
Sizes are approximate and actual weight might vary slightly. Example 1ct total weight could actually be .99cttw – 1.04cttw          
Have some fun and dress your studs in an earring jacket. Mix and match with colored gemstone studs, pearls or Diamonds. These Diamond earring jackets elevate the simplicity of your stud earrings to a whole new level.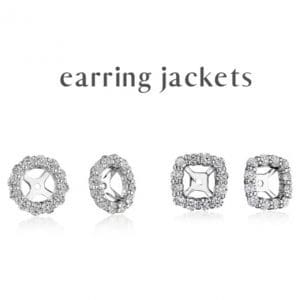 A customer once told us "My diamond studs make me feel taller, thinner and more beautiful," and another said "My diamond studs make me feel like I have super powers". Simply said, the April Birthstone makes us feel special. Who doesn't like that?
Birthstones and Anniversaries: On almost all modern birthstone lists, diamond is recognized today as the birthstone for April. Diamond is also the gem that marks the 10th and 60th wedding anniversaries.
The perfect gift for the tenth or sixtieth anniversary.
Pay us a visit in our showroom located in the heart of the Freeport Outlets to see our variety of Diamond Stud Earrings or continue shopping earrings.