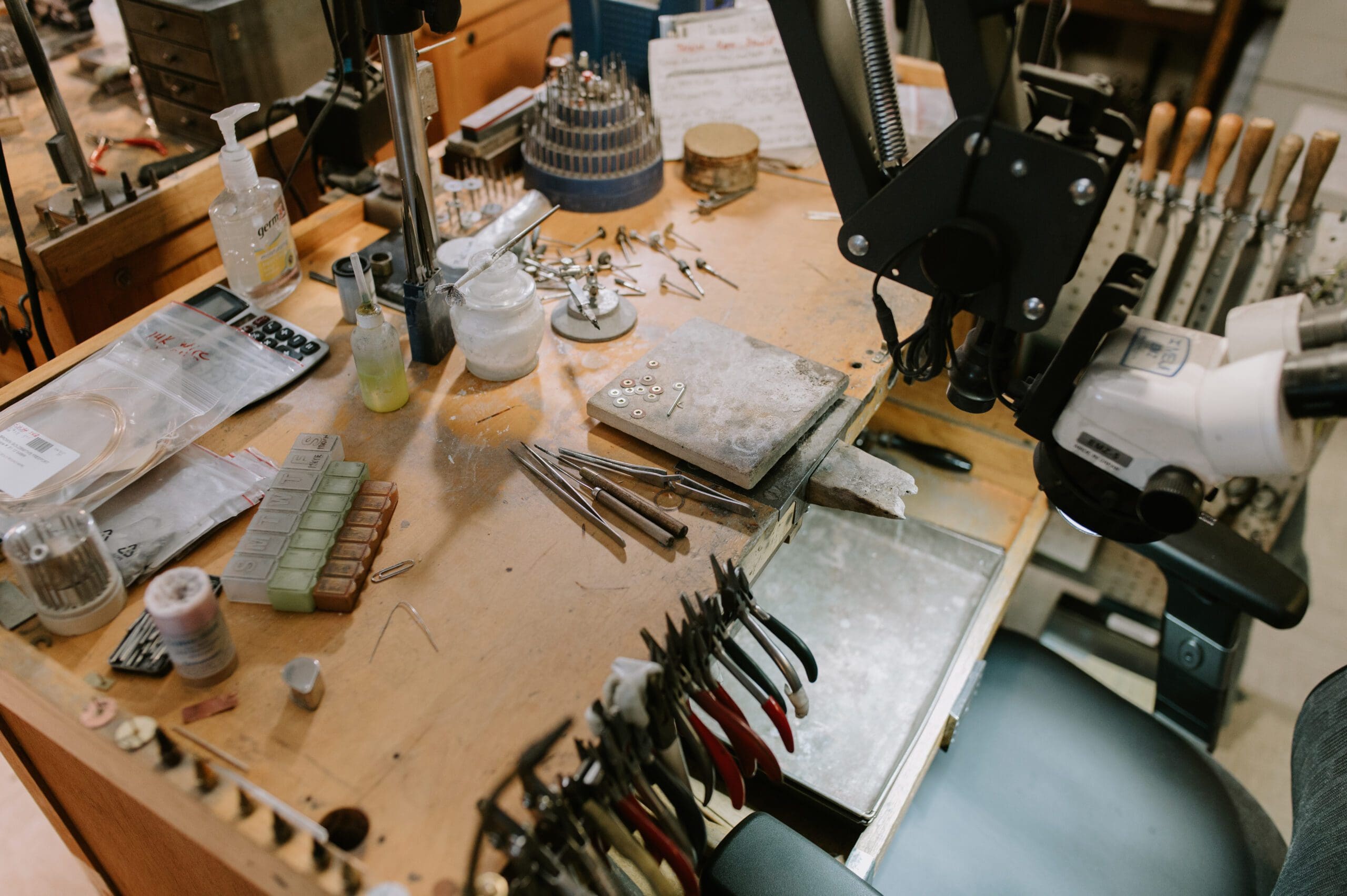 Jewelry Repair Information
on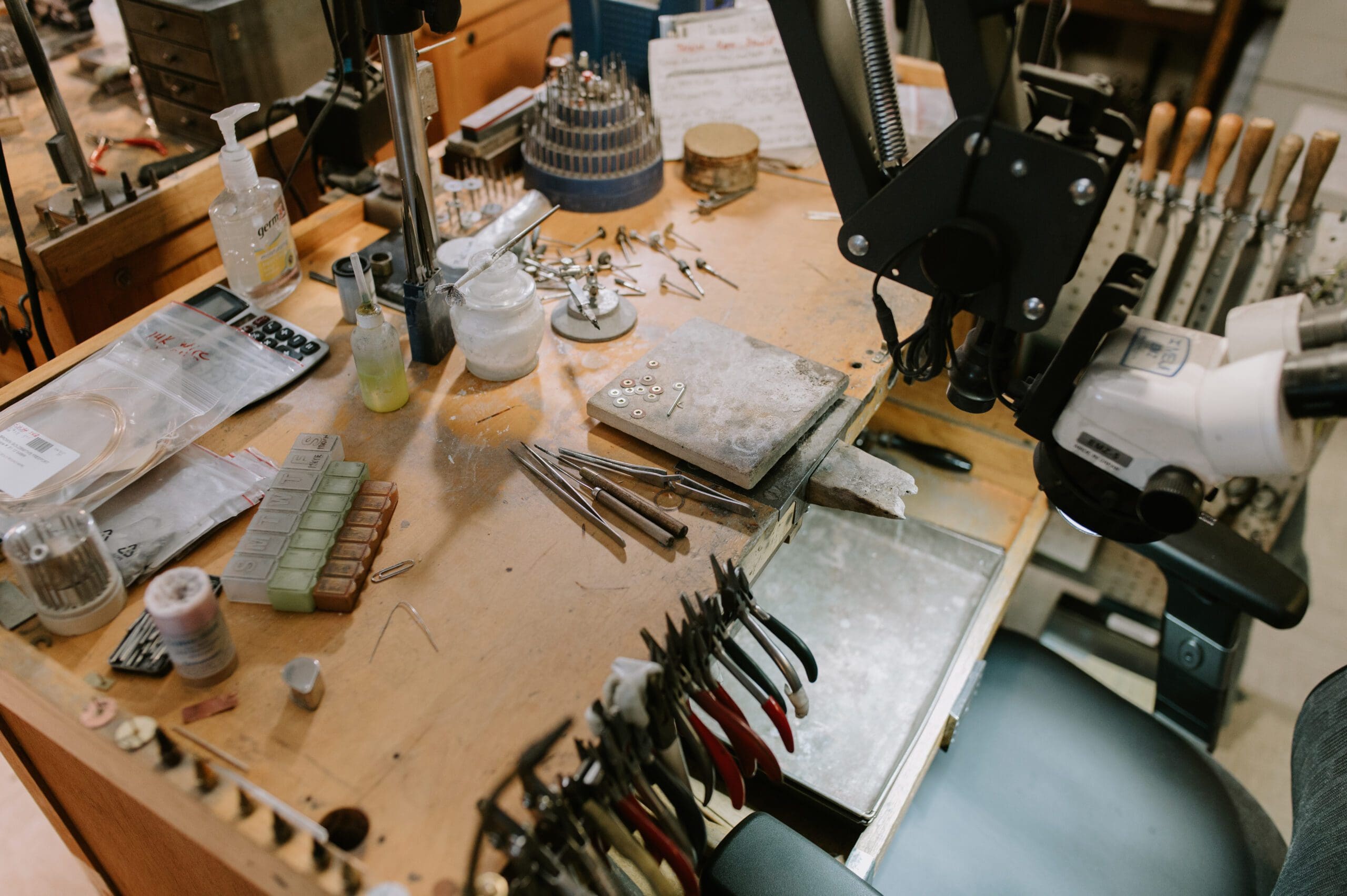 We are one of the few jewelry stores in Maine to fulfill all types of jewelry repairs on our premises. From ring sizing to chain repair, we can help you make your jewelry wearable and comfortable again.  Here are some frequently asked questions to help you make an informed decision about your own jewelry.
How do I begin the repair process?
Please bring in your jewelry and let us have a look! Most repairs can be evaluated and estimated, at no cost, right in our showroom while you wait. Occasionally, a Sales Associate will spot extensive damage. In these cases, your jewelry will be sent upstairs for our trained jewelers to assess. A $35 deposit is necessary for these estimates and will be put towards the cost of the actual repair once your estimate is approved.
We honor our estimates. If a job takes us longer than we estimated, the materials cost more, or we overlook estimating a part needed for the job, we absorb those losses. And reversely, if the job goes faster, or we use less materials, we are always happy to deliver the good news that the job was less than the estimate. This provides our customers with all the benefits of our estimate process.
Estimates are valid for 30 days and we honor them in their entirety unless additional issues are discovered during the repair process. In this case, we will contact you with the information and additional cost and only move forward with your approval.
We may not give you the least expensive estimate for your repairs, but we take an enormous amount of pride in the quality of our work, and we deeply value our customers and their beloved jewelry. Over the past 55 years we have seen and corrected many shortcuts and mistakes taken by others, and we have worked diligently to perfect our repair process.
Are repairs done in house or sent out?
The majority are, in fact, done in house. Our capabilities are many, so please think of these as just a glimpse of what we handle within our building:
Ring sizing
Retipping/repronging (rebuilding worn out prongs)
Diamond & Gemstone Replacement
Chain repair & Clasp Replacement
Rhodium plating (treatment on white gold for white and shiny look)
The few repairs we send out to trusted partners are stringing, engraving, gemstone repolishing and gemstone repairs.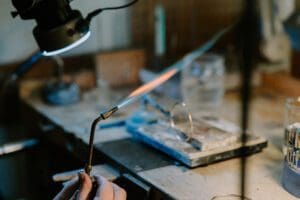 How is a ring resized?
There are a few scenarios for resizing a ring:
Sizing up – your ring is too small and you need it to be larger. We will need to cut your ring in order to add the necessary amount of metal. We will confirm your correct ring size and insert this section seamlessly.
Sizing down – your ring is too large, and it falls off, spins or is uncomfortable. Again, we will need to cut and file the ring in order to fit it down to the proper size. To note: depending on how much the size comes down, and the design of the ring, challenges might arise with the shape of the ring and how the gems sit.
Eternity Band sizing – these rings, with gems all the way around, can sometimes be sized. We'll work with you on the options to maintain the design and integrity of the ring when sizing is possible.
Plain gold wedding bands do not always need to be cut. We can, in some cases,  size these up or down with a special tool. We will recommend the best option for the longevity of the ring.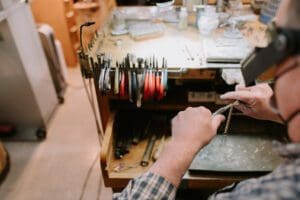 How much will it cost to resize my ring?
Though this is one of our most common repairs, the answer is dependent upon the ring itself. Generally speaking:
Sizing a ring down starts at $95.
Sizing a ring up starts at $125.
There are many factors considered when we provide a formal estimate for sizing. These include size difference and amount of metal needed, width of ring, types of metal, and patterns of two-tones, just to name a few. We also examine the ring for other potential repairs we might recommend doing at the same time as the sizing.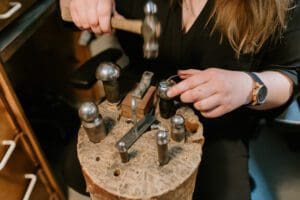 How long will my repair take, can it be shipped, and are there any other considerations I should take into account?
Our typical turnaround time for standard repairs is 2 weeks from receiving approval on your formal estimate. During certain times of the year, specifically around the holidays, and sometimes due to the extent of your repair, the turnaround might be a bit longer.
We can absolutely ship your repairs in or out of state.
Our jewelers are meticulous in their work. Quality versus quantity is a belief by which we stand. Their thought, caution, and craft takes time which will pay off for many many years.
Lastly, if you have paperwork or any indication of the value of your jewelry, this is extremely helpful for us to insure it while it is in our care. We are fully insured, as is your jewelry while it is on our premises, and any help in assigning it a value is greatly appreciated. If you don't have any idea, not to worry! Our trained professionals will be able to assign a declared value for our insurance.
As always, email, call or pay us a visit with any questions or concerns we may not have covered. Don't let your uncomfortable or broken jewelry sit unused any longer. The repair process is our specialty and really quite simple.