In 1967, a certain couple we know began hammering sterling silver, then creating jewelry – just for the fun of it. When a pair of earrings sold to a friend or professor, the money purchased a little more silver, or perhaps jewelers' pliers. A wily mix of passion and grit eventually led to gold, purchased to forge their own wedding rings. Even then, neither Steve nor Judy could imagine the golden memories and silver linings that would fill their lives and brighten their hearts through the decades to 2017 – 50 years later.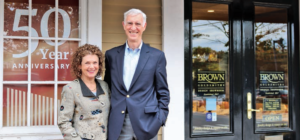 Today it seems nearly impossible to properly thank the loyal colleagues, friends, family and customers of Brown Goldsmiths for their trust and business.To symbolize even an ounce of gratitude, we are adding a Golden Sapphire* to certain pieces. This sapphire not only marks our "Golden Anniversary" but it is also thought to protect and bring health and prosperity to those who wear it. It will be discreetly placed on a certain selection of our pieces for you to treasure, or share, as you see fit.  With our deepest gratitude, we thank you, for a magical, story-filled, and unforgettable 50 years.
If you are interested in adding a golden sapphire to a piece, pay us a visit or give us a call as we would love to share our 50 Years with you!