Pearl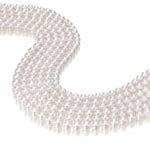 Pearl is the gemstone of the 3rd, 13th, and 30th wedding anniversaries.
Pearls are treasures from the Earth's ponds, lakes, seas, and oceans, and they've always embodied the mystery, power, and life-sustaining nature of water.
The spherical shape of some pearls led many cultures to associate this gem with the moon. In ancient China, pearls were believed to guarantee protection from fire and fire-breathing dragons. In Europe, they symbolized modesty, chastity, and purity.