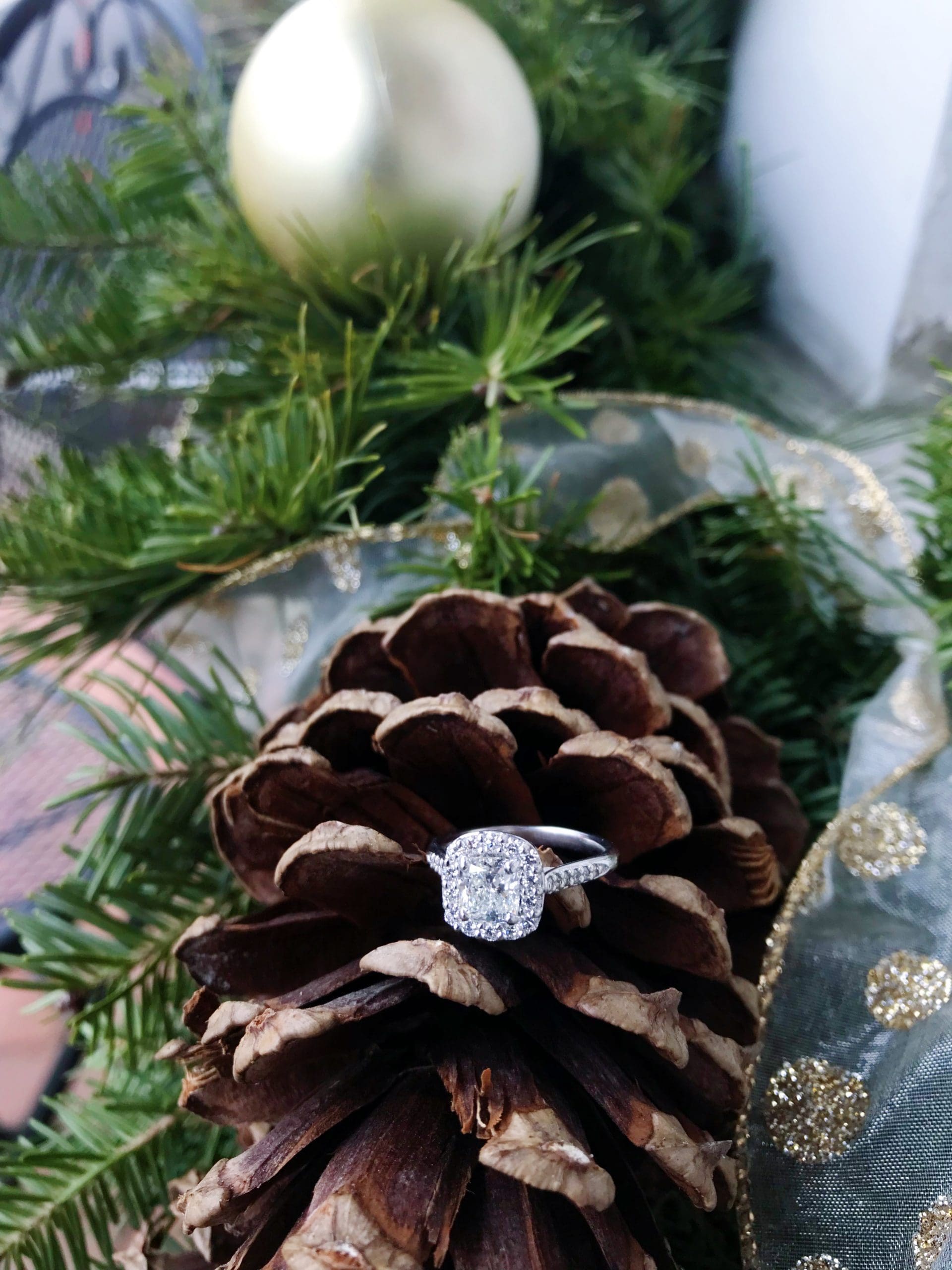 A Selection of Design Favorites
on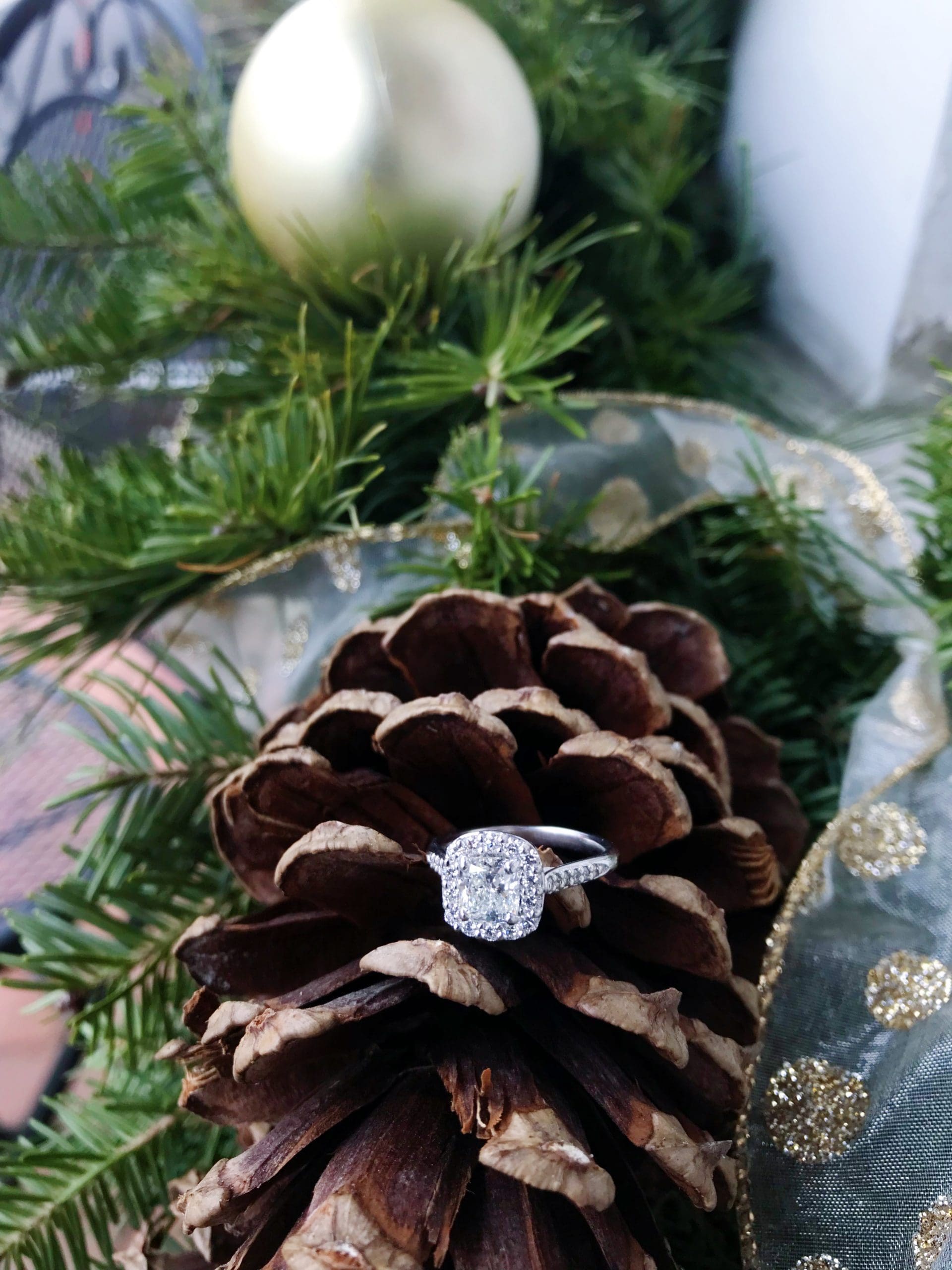 The cold winter months are the perfect time to reflect on some of our favorite projects.  We had fun with these "gems" and hope you enjoy them too.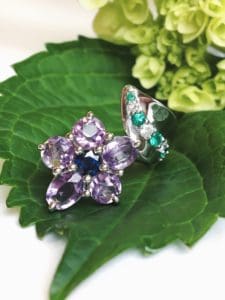 Custom Flower Ring
What an unusual project and probably one of our most challenging! This customer came in with rough sketches of what she wanted and heirloom gems. The gems presented the biggest challenge being all different shapes and sizes, a collection from several different family heirlooms. This was the stunning result! The next challenge was the fit for this unique ring. Designed in our CAD program, we were able to print a prototype in plastic to make sure the ring fit her correctly before moving on to casting it in platinum. You can probably understand why this made the list of our favorites.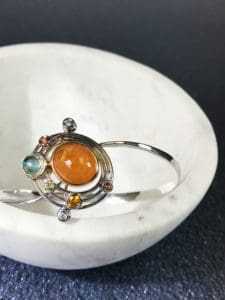 Orbital Spin Bracelet
We created this fun and unusual spin bracelet specifically to enter into American Gem Trade Association's Spectrum Awards, a competition that recognizes and promotes designers whose work utilizes natural colored gemstones in finished fine jewelry design. We weren't among the winner's circle, but this project challenged us and gave us a spectacular piece of jewelry to be proud of.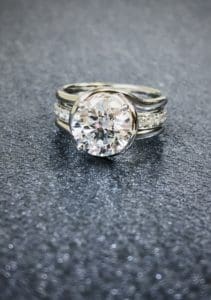 3+ Carat Stunner
If you're looking for big diamonds, look no further! This couple was looking to commemorate a special milestone anniversary, and chose us to help them design their dream wedding set.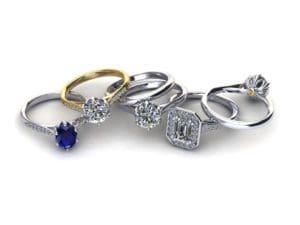 Jubilee Ring
Anniversaries are a time for celebration. To celebrate 50 years of business, we wanted to create something to commemorate the decades that we could share with you all. Our Jubilee Ring Collection is the result. The collection is nearly limitless in its ability to be customized, and is perfect for someone who is looking for timeless beauty and craftsmanship that has lasted the test of time. All of our Jubilee Rings are designed to be worn with a straight band, and feature a Golden Sapphire set under the center gem, a 'secret' nod to our Golden Anniversary. Of course we had to include the Jubilee in our favorites of 2017.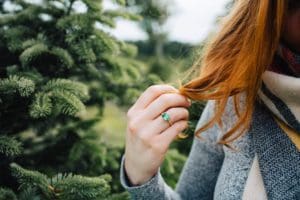 Concerto Ring
Concerto – a musical composition for a solo instrument accompanied by an orchestra. Just as the orchestra compliments the soloist, interweaving strands of precious metal come together to encircle the center gem, the stone's soloist, and compliment its beauty. The Concerto Ring was made for customization; choose one of our precious gemstones or bring in a family heirloom and we can compose a Concerto just for you.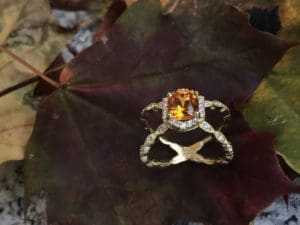 Orange Cushion Sapphire
Talk about an unconventional engagement ring! This has got it all: a colored center stone (in orange, nonetheless), an X split shank, and diamonds and millgrain a-plenty. And the orange sapphire looks so good against the fall leaves!
Sapphire and Diamond Enclosure
Anniversary Band? Wrap? Enclosure? Whatever you call it, this ring set is spectacular! These customers came in with a traditional solitaire engagement ring and wedding band, looking for something to commemorate their anniversary. She was looking for something to wear with her rings, but didn't like stacking rings. After spending some time with one of our designers, the ring was born. Set with an oval sapphire, the ring swirls around her diamond solitaire and are accented with channel set diamond and a sapphire gradient. A great example of a One-of-a-Kind creation from Brown Goldsmiths and obvious choice for one of our favorites.
One Ring becomes Three
We've always believed that jewelry holds a special place in people's lives, and this project is a perfect example of that. A gentleman came in hoping to turn his ring into three separate rings: one for his wife and two for his daughters. Throughout time jewelry has held significance to people; to commemorate important dates and events, to symbolize the bond between two people, to tell the world about the wearer. And here, these rings symbolize the bond of family. We are so happy to have played a part in creating meaningful jewelry for this family.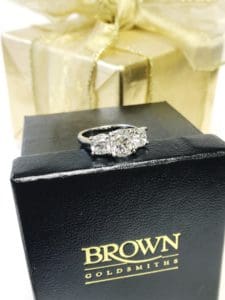 Three Stone Cushion
As temperatures dropped and Maine froze over, we were creating some ice ourselves! This customer came to us with a stunning cushion cut diamond weighing just over two carats. She fell in love with a ring in our showcase and wanted to recreate it with her diamond. We obliged, and created this 4+ carat total weight stunner set in platinum for her.
Pariba Tourmaline
When an artist creates a masterpiece it needs to be put in a frame that matches its grandeur. The same goes with the creations of the earth; a beautiful stone deserves to be set in a ring that fits its beauty. We tried our best to create a ring fitting of such a unique stone, and the final result shows off the pariba tourmaline perfectly. This design also features our golden secret sapphire.
If you'd like to create a special piece of jewelry we'd love to talk with you.
Visit our showroom nestled in the heart of the 
Freeport, Maine
 outlets.