Description
Concerto Ring – a Brown Goldsmiths original design. Now Available: 18k yellow gold Concerto, set with a 5.88ct Rectangular Cushion cut (9.65 x 7.80 mm) Blue Zircon, accompanied by 3 twinkling diamonds on each side.
Designed in celebration of our 50th Anniversary, the Concerto has proven to be a customer favorite in its beauty and possibilities.
The Concerto Collection includes: Platinum with Tanzanite, Rose gold with Peach Sapphire and Green Tourmaline Concerto in 18 karat yellow gold.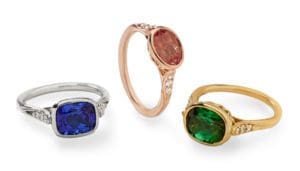 Zircon occurs in an array of colors. Its wide and varied palette of yellow, green, red, reddish brown, and blue hues makes it a favorite among collectors as well as informed consumers. Colorless zircon is well known for its brilliance and flashes of multicolored light, called fire. These two zircon properties are close enough to the properties of diamond to account for centuries of confusion between the two gems.
Gifting Ideas:
Blue Zircon is a Birthstone for December.
Continue shopping our collection of Colored Gemstone Jewelry online.
Or visit our showroom in Freeport, Maine to see our full selection of jewelry.
PICTURED: 7mm square cushion, 2.94ct blue Zircon, bezel set in 18k yellow gold complimented by sparkling diamonds on either side, the Concerto Ring was designed in celebration of the 50th Anniversary of Brown Goldsmiths.