What is CAD and how does it work with jewelry?
on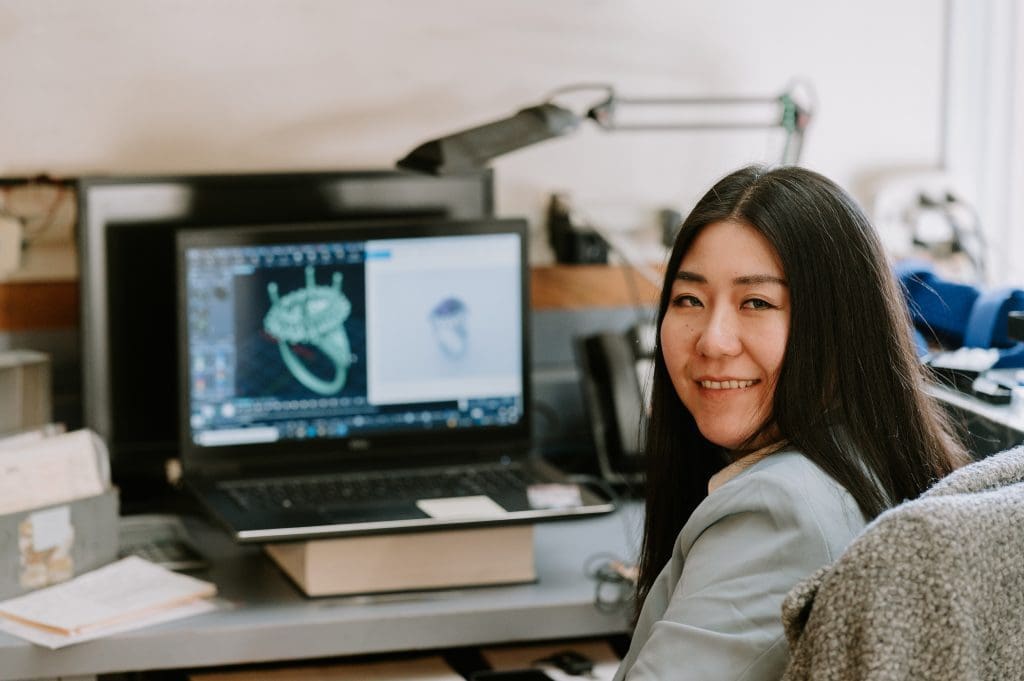 You may or may not know that we have a CAD Designer at Brown Goldsmiths. And you may or may not know what the heck that is. Let us shed some light on this amazing technology that lends itself particularly well to jewelry design.
MeetSerena!
She joined our team as a CAD designer in 2021. She came to us from the Midwest and has enjoyed getting to know everything about Maine.
The following post was written with our former CAD Designer, Julia. All of the information holds true to the process.
Explaining CAD in terms we can all understand…
CAD is an acronym for Computer Aided Design. It is basically design that occurs in a program on a computer, where you can create three-dimensional objects in the virtual world. CAD programs allow for a lot of manipulation and almost infinite detail in whatever you are doing, and they are utilized in architecture, industrial manufacturing, product design, and, of course, jewelry!
How does CAD help in the world of jewelry?
The traditional way of creating jewelry involves hand-carving wax blocks into whatever you want your piece to look like, which takes a ridiculous amount of skill. With CAD, you can do wonderful things like mirror parts, copy and paste, and make sure parts are symmetrical on a micron level. There are still instances where the more traditional ways of creating jewelry make sense for the project you're working on, but it's always better to have more tools at your disposal.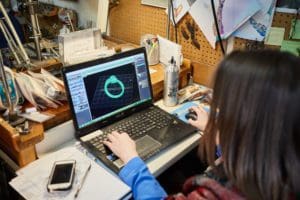 One of the features that is REALLY great about CAD is the ability to do renderings. Rendering is the process of creating a raster image based on the 3D objects of a scene. Basically I can place 3D models of jewelry in a virtual environment, assign certain parts different materials and textures, and then let the computer create a photo-realistic image of what the piece of jewelry will look like when it's finished. This ability means that we can make images of pieces that don't exist yet, creating an added value to our customers by letting them see what the design will look like when it's finished. Drawings can be useful but are limited to two dimensions, whereas CAD can include the third dimension customers sometimes like to see
 Are there any limitations or anything you can't do with CAD?
When creating in CAD, you must keep scale in mind. I'm always measuring different parts of whatever model I'm creating to make sure I don't print anything too small. Creating jewelry is basically small-scale engineering: I need to make sure parts are thick enough to cast correctly and stand up to being worn once the piece is completed. At the same time, I can't let anything get too thick. I must make sure the ring is structurally sound, and that whatever gems will be set later are held securely. There are a ton of checks that I go through before a model is submitted to the printer.
Do you have a favorite piece that you have seen through from CAD to reality?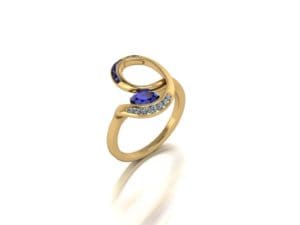 I have a lot of favorites, but one in particular was a lot of fun to figure out.  A couple came in and wanted to design a custom ring to commemorate a milestone anniversary, which would be worn with her current engagement and wedding rings. After reviewing a few different designs, we settled on a very unusual ring that would actually wrap around her wedding ring, but was interesting enough to be worn on its own as well.
The finished design incorporated diamonds and a gradient of sapphires moving from light to dark blue. The centerpiece was the blue sapphire that seemed to hover between two sections of gold. When worn with her other rings, it was quite a stunning combination, and a design that was really made possible easier with CAD. We even printed a prototype in plastic so we could let the customer try on the new ring with her other ones and make any adjustments before we sent it for the final casting.
How do I start the process of creating a treasure in CAD?
Stop in to our Showroom in Freeport, give us a call or shoot us an email. It can help if you already have some sense of what you're looking for, but after browsing what we have in our showroom or exploring our website, you may be further inspired.