Description
The Sweet Embrace Diamond and Gold Necklace  –
Originating from our popular Embrace Ring design. The Sweet Embrace is a single strand of precious metal that gently curves from top to bottom to embrace a sparkling diamond. Beautifully simple yet symbolic. Made in yellow, white, and rose gold. A gift she'll cherish.
Choose your favorite Embrace for the one you love.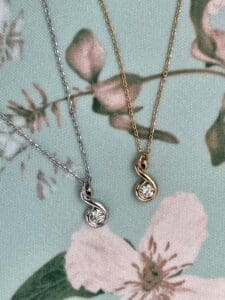 Visit our showroom nestled in the heart of the Freeport, Maine outlets, or shop more of our Signature Collection online.