Description
Oval Diamonds have recently seen a surge in popularity, maybe due to the fact that the long slender look on the finger gives the diamond a larger appearance.
The cut, and it's light return, has improved over the years. The modern Oval shape diamond has earned the Brilliant cut status offering the wearer sparkle much like a round brilliant but in the elongated shape.  Oval diamonds have a greater size appearance vs a round brilliant of the same carat size making it a great choice for someone who likes the look of a larger gem. See more on diamond cuts.
This 1.40ct Oval Diamond is set as a elegant solitaire with a narrow yellow gold band and white gold prongs.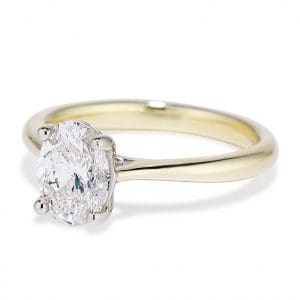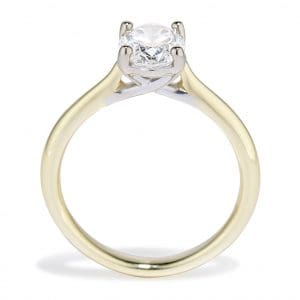 This ring is beautiful from every angle, the diamond comes with a GIA diamond grading report and a laser inscription for identification, because real is rare.
Visit our showroom nestled in the heart of the Freeport, Maine outlets to see our full selection of engagement rings.
Learn about our Diamond Trade up Program.