Description
Platinum Cushion Pink/Orange Spinel 1.22 ctw and Diamond .52 ctw FG/VS1 2 BR .40, 10 D .12
The Black Prince's Ruby. The Timur Ruby. For centuries, spinel, the great imposter, masqueraded as ruby in Europe's crown jewels. Along with peridot, it is now the birthstone for August. Interested to see what your birthstone is? Check our listing of the birthstones for each month.
This orange spinel is set in platinum between two diamonds.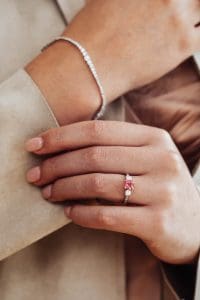 Photo Credit – Story Silo Media
We'd also love to see you in our showroom in Freeport, Maine located in the heart of the Freeport stores to see our full selection of jewelry, or continue shopping our selection of Colored Gemstone Jewelry online.