Description
The Monarch 'Granada' features a sleek frame in aerospace grade titanium inlaid with Cocobolo wood. The blade is hand-forged 'Boomerang' damascus by Chad Nichols. The one-hand button lock and the thumb stud the Monarch 'Granada' are set with spinel gemstones.
The Monarch 'Granada' is a simple design that is easy on the eye and effortless in the hand; the elegant shape of the handle on this design is also an ideal canvas to showcase our exotic materials. The 'Granada' is the beautiful balance between elegance, function, modern and exotic materials. #350818
FEATURES & SPECS
One-hand button lock system
Leather carrying case
Shipped in an elegant wood presentation box
Dimensions:
Blade 2.63″ (66.8mm)
Handle 3.58″ (90.9mm)
Overall open 6.00″ (152.4mm)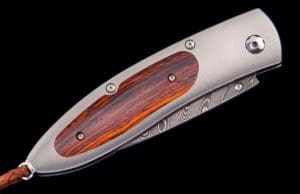 TITANIUM
Titanium is a low density, strong, lustrous, corrosion-resistant (including sea water, aqua regia and chlorine) metal with a silver color.
It was discovered in Great Britain by William Gregor in 1791, and named by Martin Heinrich Klaproth for the Titans of Greek mythology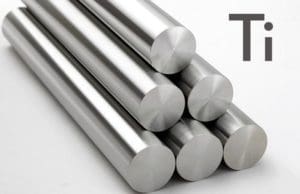 William Henry uses only aerospace-grade titanium alloy for their frames, clips, and micro-fasteners. Called 6Al/4V, it is titanium with a little aluminum and vanadium added in for additional toughness and tensile strength.
COCOBOLO
One of the true tropical rosewoods, Cocobolo is a very beautiful wood, ranging from a beautiful rich dark brick red, to reddish or dark brown, with a figuring of darker irregular traces weaving through the wood. It is fine textured and oily in look and feel. William Henry uses premium Cocobolo  sourced responsibly from Mexico and Central America.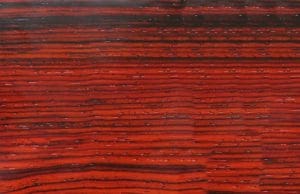 Visit us in our Freeport, Maine showroom to see our full collection of William Henry gifts including Pens, Knives, Money clips, and Men's Jewelry.