Description
A tremendous 2.5 carat Marquise Cut Blue Topaz needs no help, or extra details, to impress. The cut, color, and 14k gold setting are a complete success.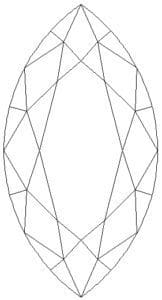 Marquise-shaped brilliant Cut
The story goes that this cut was developed for King Louis XV of France, who wished to evoke the lips of his mistress, the Marquise de Pompadour. The elongated, almost football-like shape and brilliant faceting of the marquise cut creates a dramatic look.
To learn more about diamond and gem cuts, visit our Blog Post for more information.