Description
Lancet 'Pyre' features a beautiful frame in hand carved sterling silver inlaid with beautiful carnelian stone. The blade is 'Wave' damascus with an extra strong core of ZDP-189; the one-hand button lock and the thumb stud are set with spinel gemstones.
Sleek, elegant, refined, and comfortable in the hand and to the eye, the Lancet defines the essential gentleman's folder in the modern world.
The 'Pyre' features some of our most exotic materials, the exquisite artistry, and the hand-forged metals that are the hallmark of William Henry's collections.
FEATURES & SPECS
One-hand button lock system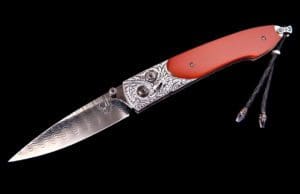 Blade 2.75″ (69.9mm)
Handle 3.63″ (92.2mm)
Overall open 6.38″ (162mm)
All William Henry knives feature a unique serial number which is engraved into the blade to assure the authenticity and lifetime traceability of the product
ZDP-189
William Henry worked closely with partners in Japan to develop a laminate that captures a 'core' center layer of ZDP-189 (HRC 67) within softer layers of 420J2 stainless steel for our blades. The ZDP creates the razor sharp edge, while the softer layers offer tensile strength and support. The layers are revealed in heat treating and polishing, showing an elegant seam in the blade that mimics the traditional 'temper lines' seen on Samurai swords.
Black Coated ZDP-189
Black (Tungsten DLC coating). This is a surface coating that has a molecular bond with the ZDP blade. The coating has a hardness of about 88 HRC, even tougher than our blade steel, and wears beautifully over time and use.
CARNELIAN STONE
Carnelian is a beautiful brownish-red mineral which has been used as a semi-precious gemstone for thousands of years. Carnelian was recovered from Bronze Age Minoan layers at Knossos on Crete in a form that demonstrated its use in decorative arts – This use dates to approximately 1800 BC. Carnelian was also used widely during Roman times to make engraved gems for signet or seal rings for imprinting a seal with wax on correspondence or other important documents (hot wax does not stick to carnelian).
William Henry uses Carnelian as an inlay or decorative gemstone in several of their collections.