Description
JADE PALACE – MONARCH COLLECTION
EDITION OF 100 PIECES
The Monarch 'Jade Palace' features a frame in hand-forged 'Twist' damascus by Chad Nichols, inlaid with green jade scales. The blade is 'Wave' damascus with a VG-10 core. The one-hand button lock and the thumb stud are set with spinel gemstones. The Monarch is a simple design that is easy on the eye and effortless in hand. The 'Jade Palace' features some of William Henry's signature metals and represents the perfect synthesis between elegance, function, and modern and exotic materials; a distinctive personality statement to be worn and used for a lifetime.
JADE PALACE FEATURES & SPECS
One-hand button lock system
Leather carrying case
Serial # – 235-0150
This Knife Is Number 003/100
Shipped in an elegant wood presentation box
DIMENSIONS:
Blade 2.63″ (66.8mm)
Handle 3.58″ (90.9mm)
Overall open 6.00″ (152.4mm)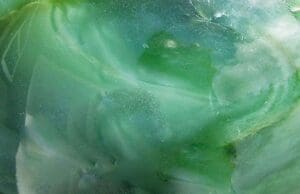 JADE
With its beauty and wide-ranging expressiveness, jade has held a special attraction for mankind for almost 7,000 years.
Still today, this gem is regarded as a symbol of the good, the beautiful and the precious. It embodies the Confucian virtues of wisdom, justice, compassion, modesty and courage, yet it also symbolizes the female-erotic.
It comes in many fine nuances of green, but also in shades of white, grey, black, yellow, and orange and in delicate violet tones. Only in the very finest jade is the color evenly distributed.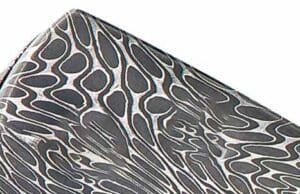 ETCHED DAMASCUS
This material obtained by immersing a traditional damascus billet it in an acid solution. The process creates a striking visual contrast by enhancing the components that are more susceptible to the etching of the acid.
Visit us in our Freeport, Maine showroom to see this Jade Palace Knife as well as our full collection of gifts including pens, money clips, and more knives.