Description
Blazing – GenTac Collection
The GenTac Blazing features a beautiful frame in etched 'T-Rex' Damascus by Delbert Ealy, inlaid with 'zinc matrix' apple coral. The blade is William Henry's 'Copper Wave' Damascus with VG-5 core; the one-hand button lock and the thumb stud are set with spinel gemstones.
An exceptional design that offers rigorous performance in a sleek, comfortable knife, the Gentac Blazing is also the perfect canvas to showcase William Henry's range of exotic materials and techniques.
The 'Blazing' features some of the exotic materials and forged metals that are the hallmark of William Henry's collections; a distinctive personality statement to be worn and used for a lifetime.
FEATURES & SPECS
One-hand button lock system
Dimensions
Blade 3.25″ (82.5mm)
Handle 3.80″ (96.5mm)
Overall open 7.00″ (177.8mm)
All William Henry knives feature a unique serial number which is engraved into the blade to assure the authenticity and lifetime traceability of the product
This knife is shipped in an elegant wood presentation box, and it comes with a pocket clipcase made from soft, high-grade leather, with an integrated stainless steel pocket clip.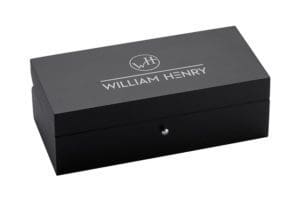 HAND FORGED 'COPPER WAVE' DAMASCUS
This beautiful William Henry exclusive blade steel (patent pending) incorporates copper and stainless steel into a 45 layer Wave Damascus that features a core of VG-5 stainless steel. This steel attains a hardness of HRC 59, excellent by any standards, at the cutting edge.

'ZINC MATRIX' APPLE CORAL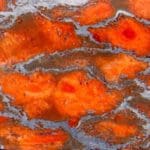 Apple coral is part of the species of corals known as melithaea sponge, which is commonly found on the ocean floors around the waters of Taiwan, Indonesia and southern China. The destruction of coral reefs around the world led to a global ban on coral mining and collecting in 1992, but apple coral was not included.
The United States has placed a ban on shipping coral in and out of the country, but there is no ban on the melithaea sponge corals.
Our apple coral is infused with zinc to obtain a beautiful and original pattern.
SPINEL
Natural spinel is a gemstone that has become a great favorite with gem dealers and gem collectors; one might even say that spinel is for gemstone connoisseurs only.
It is a hard glassy mineral occurring as octahedral crystals of variable color and consisting chiefly of magnesium and aluminum oxides. Some spinels are among the most famous gemstones in the world: among them are the Black Prince's Ruby and the "Timur ruby" in the British Crown Jewels, and the "Côte de Bretagne", formerly from the French Crown jewels.
Visit us in our Freeport, Maine showroom to see the Blazing knife from the GenTac Collection as well as the rest of our full William Henry selection including pens, knives, money clips, and men's jewelry.