Description
The Chablis 1201 is William Henry's latest pen design – we are proud to offer many of the rare and exotic materials of our WaveLock© models in this new and stunning design that combines superlative function and ease of use with an extremely attractive price. The 'Chablis 1201' features a stunning barrel in Curly Koa wood, with accents in ebonite and Mokume Gane. The pocket clip is set with a citrine gem as an added accent.
FEATURES & SPECS
• Twist mechanism
• Specifications:
Frame: Titanium / stainless steel
Medallion: black silver
Accents: mokume gane and ebonite
Pocket clip: stainless steel set with citrine
UNIQUE MATERIAL


The Chablis 1201 features one of our hallmark materials.
These natural materials owe their patterns and distinctive color palette to the specific and often unique conditions in which they came to exist.
Because of the fossilization process, soil composition and meteorology, these rare fossils, exotic woods, shells and rocks can show dramatic differences in color and pattern, making every piece a one-of-a-kind.
When you purchase a piece featuring our Unique Materials logo, the object you receive is indeed truly unique. It becomes a distinctive symbol of your own character, and an integral part of your living legacy;
a rare and precious personality statement that will accompany you for a lifetime before being handed down to another generation.
Please note that for these reasons, when you buy a William Henry featuring one of our unique materials, the piece you receive may look different from the one shown on our website. A truly original one-of-a-kind.
MOKUME GANE
Mokume gane was developed in the 1600s in Japan, allegedly by an Akita prefecture metalsmith named Denbei Shoami (1651 to 1728). He used the mokume gane technique to dress up samurai swords.
The mokume gane technique involves fusing several layers of different metals, and artistically exposing sections of lower layers. The metal is often made to display a pattern that mimics wood grain. A variety of metals can be used to give different arrays of coloration.
Layers of metal are pressed together and fused with heat. The forged layers are carved to expose lower layers and are then pressed again. The carving and pressing is repeated to develop the pattern.
Today, some of the finest mokume in the world is made here in the USA, and William Henry is proud to offer a range of this material on our collections. Our mokume is generally made with copper, brass, and nickel silver in either a 45 or 89 layer billet, forged and patterned by hand.
CURLY KOA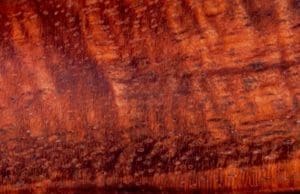 Koa is a fabled tree, and wood, sourced responsibly from the Hawaiian islands. It is reddish brown in color, takes a beautiful polish, and can occasionally offer very fine figuring/curl and chattoyance. William Henry uses only the highest grade of figured Koa (as available) for our work, resin-stabilized for durability.
CITRINE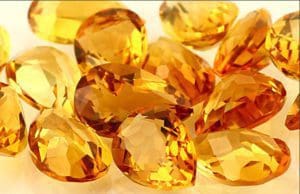 Citrine is a variety of quartz whose color ranges from a pale yellow to brown due to ferric impurities.
The name is derived from Latin citrina which means "yellow" and is also the origin of the word "citron." Sometimes citrine and amethyst can be found together in the same crystal, which is then referred to as ametrine.
Visit us in our Freeport, Maine showroom to see our full collection of gifts including Pens, Knives and Money clips.