Description
Cabernet Xylay
The Cabernet Xylay features a barrel in xylan wood and a light internal structure of brass. The accents on the carbon fiber cap are in mokume gane and titanium, and a stainless steel pocket clip set with smoky quartz. This beautiful writing instrument also features William Henry's patent-pending Wavelock™ cap closure system – a ring of chromium steel balls embedded in a titanium ring are captured in wave-shaped grooves in titanium collars for closed and post positions.
The Cabernet Xylay is a limited worldwide edition of 100 pieces, and the exotic wood barrel confers a distinct and original personality to each of them. Much like their owners, no two pens are ever alike.
FEATURES & SPECS
• Wavelock™ Closure System
• Shipped in an elegant wood presentation box
Mokume gane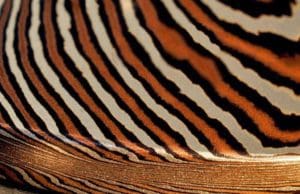 Mokume gane was developed in the 1600s in Japan, allegedly by an Akita prefecture metalsmith named Denbei Shoami (1651 to 1728). He used the mokume gane technique to dress up samurai swords.
The mokume gane technique involves fusing several layers of different metals and artistically exposing sections of lower layers. The metal is often made to display a pattern that mimics wood grain. A variety of metals can be used to give different arrays of coloration.
Layers of metal are pressed together and fused with heat. The forged layers are carved to expose lower layers and pressed again. The carving and pressing are repeated to develop the pattern.
Today, some of the finest mokume in the world is made here in the USA, and William Henry is proud to offer a range of this material in our collections. Our mokume is generally made with copper, brass, and nickel silver in either a 45 or 89-layer billet, forged and patterned by hand.
Titanium
Titanium is a low density, strong, lustrous, corrosion-resistant (including sea water, aqua regia, and chlorine) metal with a silver color.
It was discovered in Great Britain by William Gregor in 1791 and named by Martin Heinrich Klaproth for the Titans of Greek mythology.
William Henry uses only aerospace-grade titanium alloy for our frames, clips, and micro-fasteners. Called 6Al/4V, titanium with a little aluminum and vanadium added in for additional toughness and tensile strength.
CARBON FIBER
Carbon fiber is a material consisting of microscopic fibers composed mostly of carbon atoms. The carbon atoms are bonded together in crystals that are more or less aligned parallel to the long axis of the fiber. The crystal alignment gives the fiber a high strength-to-volume ratio. Several thousand carbon fibers are bundled together to form a tow, which can be used by itself or woven into a fabric.
Carbon fiber's properties, such as high stiffness, high tensile strength, low weight, high chemical resistance, and high-temperature tolerance, make them very popular in aerospace, civil engineering, military, and competition sports. William Henry uses the highest grade, and beautifully textured carbon fiber for its collections of jewelry, knives, money clips, and cufflinks.
XYLAY WOOD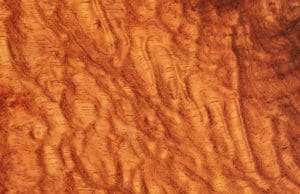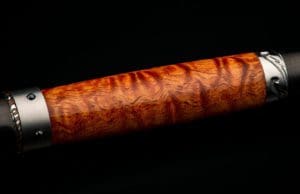 Afzelia xylocarp is a tree from Southeast Asia. In deciduous forests, it grows in Thailand, Vietnam, Cambodia, Laos, and Burma. It can reach 30 meters tall with a trunk up to 2 meters in diameter in a mature specimen.
The highly figured lumber is often referred to as Afzelia Xylay. William Henry uses the wood to create beautiful knife handles. All our xylan wood is sourced responsibly.
SMOKY QUARTZ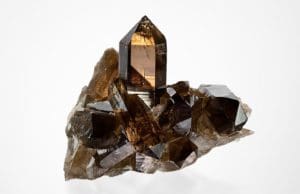 Smoky quartz is a grey, translucent variety of quartz. It ranges in clarity from almost complete transparency to an almost opaque brownish-gray crystal.
Smoky Quartz was known as a Stone of Power. To the ancient Druids, it was sacred and signified the potent dark power of Earth gods and goddesses.
Visit us in our Freeport, Maine, showroom to see our complete collection of gifts, including Pens, Knives, and Money clips.