Description
The Cabernet Kingman is a mesmerizing roller-ball pen featuring a barrel in 'Zinc Matrix' turquoise. The light structure of this writing instrument is aerospace grade titanium and aluminum.
The carbon fiber cap is accented with hand-forged Damascus and sterling silver. As a finishing touch the pocket clip is set with a diamond.
This beautiful writing instrument also features William Henry's patent-pending Wavelock™ cap closure system. The Wavelock™ consists of a ring of chromium steel balls embedded in a titanium ring which are captured in wave-shaped grooves in titanium collars for closed and post positions.
This is one of William Henry's most exclusive writing instruments, and each one imbued with a distinct and unique personality created by the 'Zinc Matrix' turquoise .
Cabernet Kingman is #123 of only 250 made.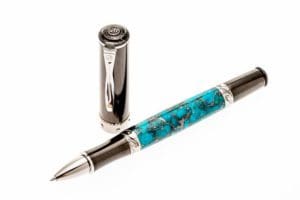 The Kingman Turquoise Mine in Arizona is one of the oldest and highest producing Turquoise Mines in America. It was originally discovered by prehistoric Indians well over 1,000 years ago. Kingman Turquoise is known for its beautiful sky blue color and produces many variations of blue Turquoise.
Our Zinc-Matrix Turquoise is made with Kingman Turquoise infused with zinc, creating a striking contrast between the soft blues of the Turquoise and the shiny, contemporary look of the metal.