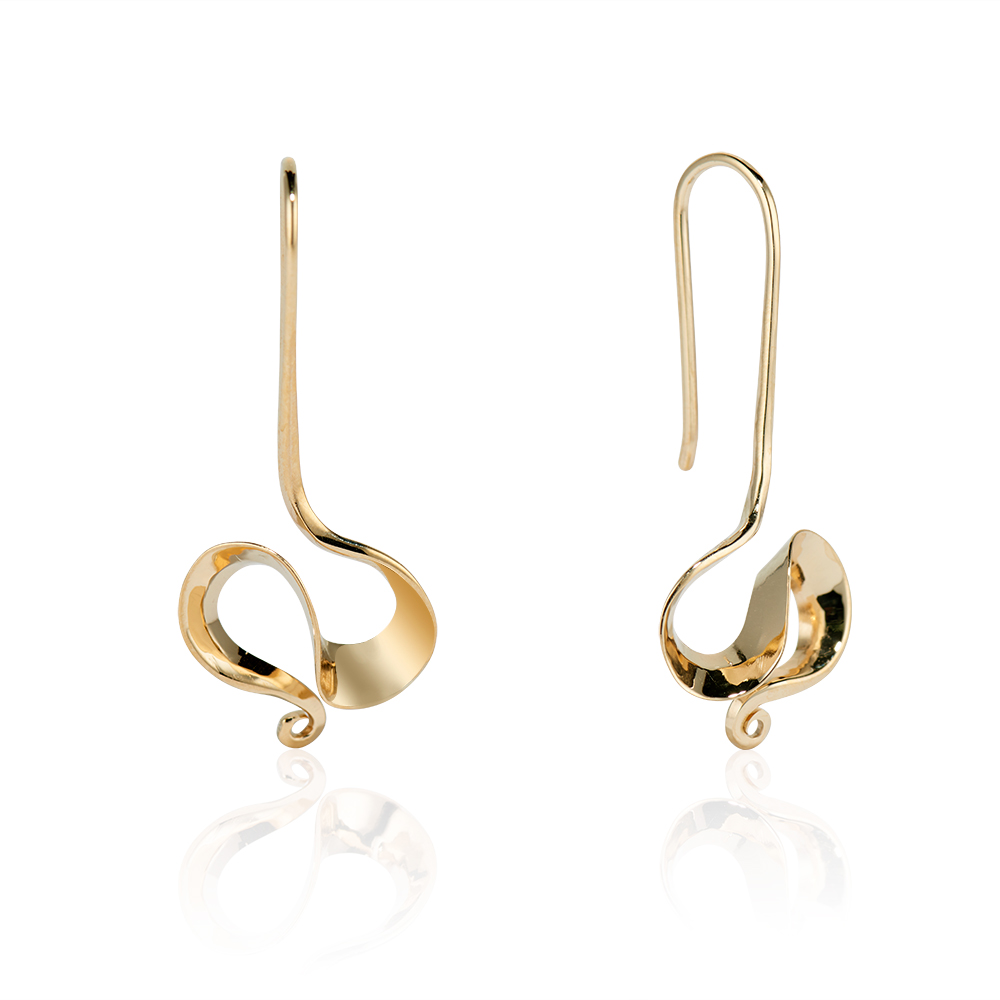 Finding Style Inspiration For Your Fine Jewelry
on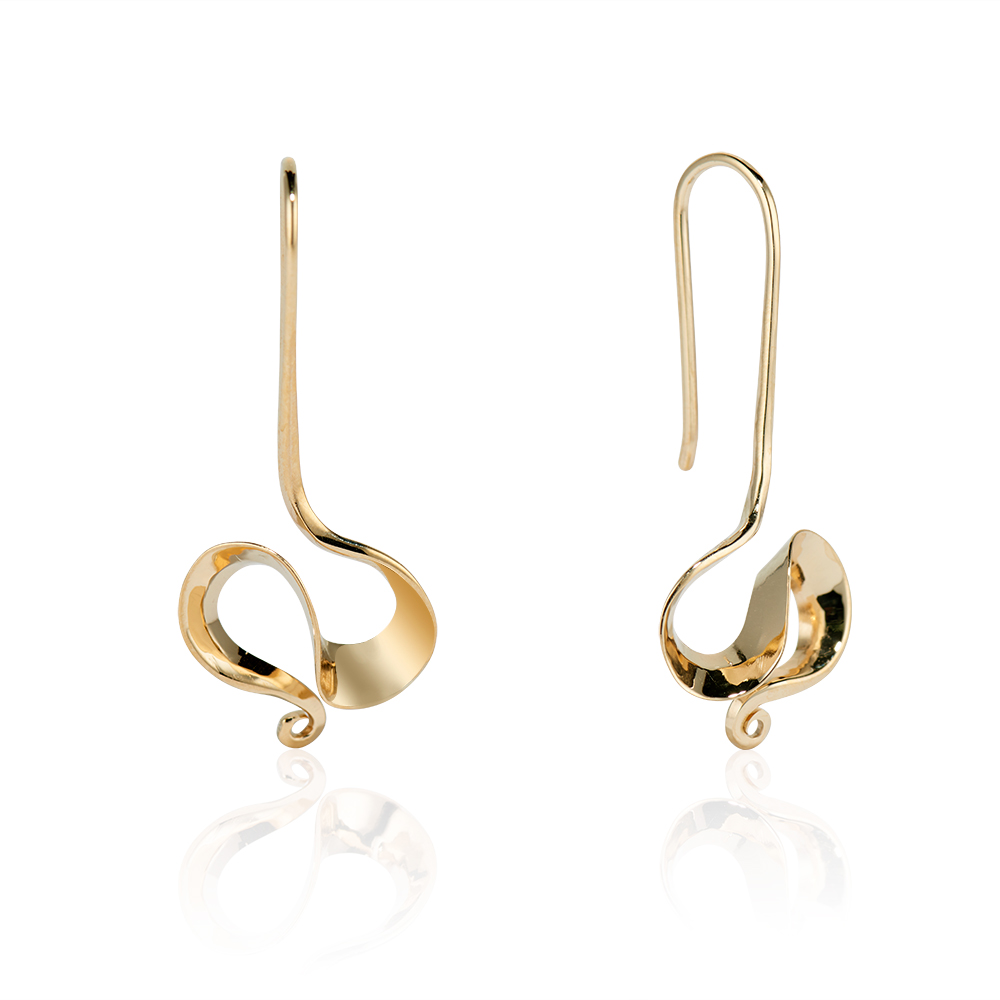 Is your fine jewelry making itself a little too comfortable in your jewelry box? We often hear from customers about their struggle to style the pieces they own, or shy away from a purchase because they "have no occasion to wear it." At Brown Goldsmiths, we believe every day is an occasion to wear fine jewelry! To help inspire you, we've paired six pieces from our Signature Collection with styles we admire using staple pieces to complete the look. Take a look to see how you can enjoy your Brown's pieces every day.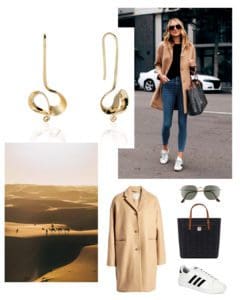 With their sweeping lines, planished surface and high polish finish, our handmade gold earrings are a perfect way to bring subtle sparkle to your ensemble. We chose to pair them with a camel coat to tie in the golden sandy tones, while keeping the rest on the casual side. White sneakers, jeans and a t-shirt keep this look comfortable, while a tote bag and aviators elevate it a step.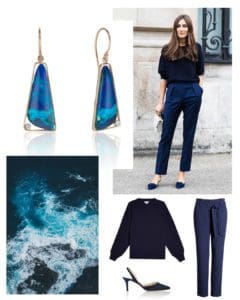 Inspired by the turbulent seas of the Maine coast, we paired our Azurite Malachite Earrings with this monochromatic blue look. The varying shades of blues and greens within the gemstone mean it's easy to find pieces in your wardrobe that pair well together with the earrings. Also, their length allows them to stand out no matter what your hairstyle. For a finishing touch, incorporate the gold of the earrings with metallic accents on your handbag or shoes.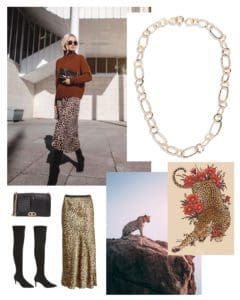 Embrace your wild side with an on-trend animal print paired with our Hammered Link Necklace. The neutral tones of the leopard print skirt allow you to pair it with a wide array of colors, while its gold tones and light catching fabric mirror the shimmering surface of our Link Necklace. A solid turtleneck provides a perfect backdrop to show off the texture and shine of this eye-catching piece.
We believe jewelry should be exciting and engaging, so we utilize many varieties of colored gemstones in our jewelry. One of our personal favorites is tourmaline, which ranges in color from deep blue to sea foam green, bright pink to more maroon hues. This particular tourmaline displays a vibrant raspberry color, but flashes of peach and yellow can be seen depending on how it's viewed and its surrounding environment. We let the ring inspire our outfit choice and paired it with a white turtleneck sweater with flared sleeves and a pleated midi skirt in maroon.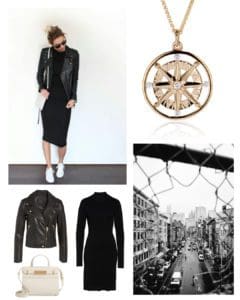 We let wanderlust dictate our style pairing with our Compass Rose Pendant. It is, after all, a symbol of guidance and direction. We love the excitement of exploring new cities and towns, and we love being able to do so while being both comfortable and fashionable. This look has a distinctly urban feel with the leather moto jacket, knit sweater dress and stylish sneakers. The gold of our pendant carries through the outfit, accented by the gold details on both the jacket and purse. You could even pair a sneaker with a gold accent, or even a gold shoe to really add some shine.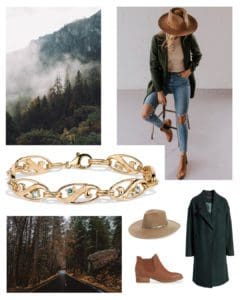 The Maine wilderness has an abundance of natural resources along with immense beauty and wonder. Our Arabesque Bracelet's golden tendrils float like mist through the mountains, each iteration adorned with a celadon green Maine tourmaline. We styled our bracelet with a deep forest green coat, pairing it with a wide-brim camel hat and brown leather booties. Roll the sleeves up for a three-quarter look to show off the bracelet.
Both jewelry and fashion can work their magic and make us feel more confident and special. We hope these examples of how we'd style some of our creations excites you.  Play around with the contents of both your closet and jewelry box to find a whole new life for your fine jewelry, and a new look for yourself! Inspired with ideas for the holidays? Contact us through phone, email, Facebook message or dm, or stop in to find out more about a certain piece, or to fill out a wish list for us to keep on file. Happy styling!