Description
The Compass Rose is a timeless reminder of guidance, direction, and finding one's way.

Brown Goldsmiths' own Compass Rose pendant features a single diamond in the center with gold and diamond spacers that connect the Compass Rose to its simple gold frame. This 14k gold pendant is just under an inch in diameter (approximately 7/8″), is shown with five Diamonds and is suspended from a Wheat style chain that can be purchased separately. Or enjoy it as a Charm! Available in 14k Yellow, White, and Rose gold or 18k by special order.
Personalize this item. We can personalize the single-diamond Compass Rose or this 5-diamond version. We'd love to help you create a Compass that celebrates all that's important to you. Choose diamonds and/or gemstones that represent what is most meaningful, and we can customize your Compass!
We make it personal! Here is an example of our Large Compass as a Mother's pendant, representing all of her family with birthstones and an heirloom diamond in the center. A One-Of-A-Kind family heirloom in the making.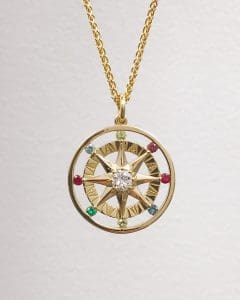 Visit our showroom nestled in the heart of the Freeport, Maine outlets or shop more of our Signature Collection online.