Description
MONARCH PRIDE
B05 PRIDE EDITION OF 100 PIECES
The Monarch Pride features an elegant frame in hand-carved sterling silver by Lee Downey, inlaid with blue lapis lazuli stone. The blade is hand-forged 'Jet Stream' Damascus by Chad Nichols; the one-hand button lock and the thumb stud are set with blue sapphire gem stones.
The Monarch is a simple design that is easy on the eye and effortless in the hand; the elegant shape of the handle on this design makes it the perfect canvas to showcase our most beautiful and exotic materials.
The 'Pride' is a timeless heirloom to be proudly worn and used for a lifetime before being handed-down to another generation.
FEATURES & SPECS
One-hand button lock system
Dimensions:
Blade 2.63″ (66.8mm)
Handle 3.58″ (90.9mm)
Overall open 6.00″ (152.4mm)
All William Henry knives feature a unique serial number which is engraved into the blade to assure the authenticity and lifetime traceability of the product.
This knife is shipped in an elegant wood presentation box, and it includes a pocket clip case made from soft, high-grade leather, with an integrated stainless steel pocket clip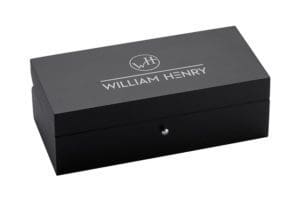 HAND-FORGED DAMASCUS
Damascus steel was a term used by several Western cultures from the Medieval period onward to describe a type of steel created in India and used in swordmaking from about 300 BC to 1700 AD. These swords were characterized by distinctive patterns of banding and mottling reminiscent of flowing water. Such blades were reputed to be not only tough and resistant to shattering, but capable of being honed to a sharp and resilient edge. William Henry's Damascus is made from several types of steel welded together to form a billet.
The patterns vary depending on how the Damascus artist works the billet. The billet is drawn out and folded until the desired number of layers are formed. William Henry Damascus billets are forged with a minimum of 300 layers. William Henry works with a handful of the very best Damascus artists/forgers in the U.S.
CARVED STERLING SILVER
Carved Silver is done by hand with chisels and rotary tools. William Henry works with the finest silversmiths to create elaborate (and durable) carvings in sterling silver. In many cases, we use colored sapphires and other precious stones, set in 18K gold bezels, to further decorate these masterful carvings.
LAPIS LAZULI
Lapis lazuli, or lapis for short, is a deep blue, semi-precious stone prized since antiquity for its intense color. As early as the 7th millennium BC, lapis lazuli was mined in the Sar-i Sang mines, in Shortugai, and in other mines in the Badakhshan province in northeast Afghanistan.
At the end of the Middle Ages, lapis lazuli began to be exported to Europe, where it was ground into powder and made into ultramarine, the finest and most expensive of all blue pigments. It was used by some of the most important artists of the Renaissance and Baroque, including Masaccio, Perugino, Titian and Vermeer, and was often reserved for the clothing of the central figures of their paintings, especially the Virgin Mary.
SAPPHIRE
Traditionally, sapphire symbolizes nobility, truth, sincerity, and faithfulness. It has decorated the robes of royalty and clergy members for centuries. Its extraordinary color is the standard against which other blue gems—from topaz to tanzanite—are measured. In ancient Greece and Rome, kings and queens were convinced that blue sapphires protected their owners from envy and harm. For centuries, sapphire has also been associated with royalty and romance. The association was reinforced in 1981, when Britain's Prince Charles gave a blue sapphire engagement ring to Lady Diana Spencer.
William Henry uses the highest quality sapphires, selected and cut by Swarovski Gems.