Description
Möbius Twist – an endless surface with only one side and one edge, a symbol of the infinite.
Our Mobius Pendant is handmade in 14k yellow, white, and rose gold in 3 sizes, either plain gold or with a Diamond or Gemstone.
The Mobius can also be customized. For example, we have created Mother's Pendants with our Mobius design by adding the birthstones of the children. We have personalized the Mobius by adding the recipient's birthstone and engraving the birthdate on the back.
Adding hand engraving gives the gift that extra special touch.  Complete the piece with the perfect chain; shop our chain options here.
Read more about our love for the Möbius Collection.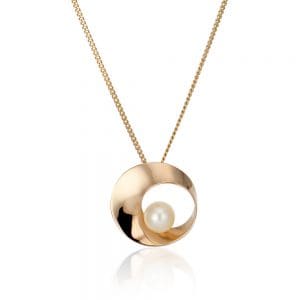 Shown here featuring a pearl.
Explore Brown Goldsmiths Möbius Twist Collection here online.
We'd also love to see you in our showroom nestled in the heart of the Freeport, Maine outlets.