Description
MAGICIAN BRACELET
Let the blues reign! The Magician Bracelet BB37 features a gorgeous palette of blues and greys, including labradorite and sodalite beads along with blue tiger eye. Crafted in our Oregon studio on aircraft grade stainless cable with welded sterling end caps and clasp, designed and built for generations. The Magician bracelet is striking with a suit, with denim, and everything in between. Solo or stacked…there are only right answers.
STERLING SILVER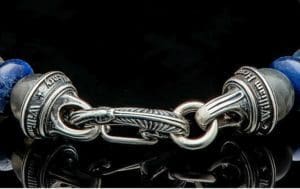 Sterling silver is an alloy of silver containing 92.5% by mass of silver and usually 7.5% by mass of copper. The sterling silver standard has a minimum millesimal fineness of 925. The sterling alloy originated in continental Europe and was being used for commerce as early as the 12th century in the area that is now northern Germany. William Henry uses the latest state-of-the-art casting equipment to create mesmerizing pieces that are often considered par with our hand-carved work.
BLUE TIGERS EYE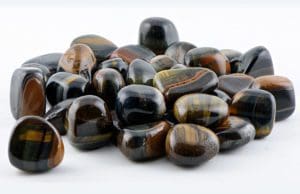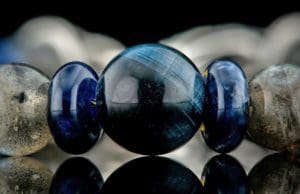 Tiger's Eye is formed when the Quartz takes over and dissolves the Crocodolite, leaving the Quartz in a finely fibrous and chatoyant form. When polished, it's silky luster creates a beautiful chatoyant effect of moving layers of brown and yellow lines and waves. Blue Tiger Eye (also called Hawk's Eye, Tiger's Eye, Tigereye) is known for its soothing properties. It is believed to help reducing stress, increasing calm and easing anxiety.
LABRADORITE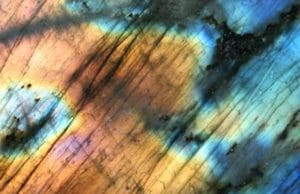 Labradorite is a feldspar mineral. Often Labradorite is found in rocks such as basalt, gabbro, and norite.
Some specimens of labradorite exhibit a schiller effect. The Schiller is a strong play of iridescent blue, green, red, orange, and yellow colors as shown in the photographs. Labradorite is so well known for these spectacular displays of color that the phenomenon is known as "labradorescence"
William Henry uses specimens with the highest quality labradorescence as gemstones in our collections of jewelry.
Visit us in our Freeport, Maine showroom to see our full collection of William Henry gifts including Pens, Knives, Money clips, and Men's Jewelry.