Description
Luna Dimond Ring set with a dazzling 1.61 carat, colorless, round brilliant cut diamond in our Signature Two-Tone (18k yellow gold and Platinum) combination. Look deeper for a surprise.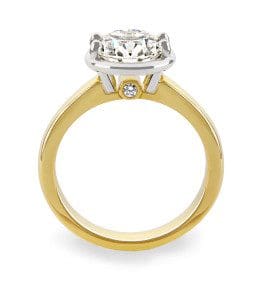 Luna = Moon-like stillness. Quiet reflection like moonlight on snowdrifts. Simplicity.
Precious Platinum encircles the diamond, set with 4-prongs as if it's floating within the softly rounded frame. Hiding is a nearly secret diamond (or accent gemstone) beneath the Platinum setting. Additional options for this design include a Rose gold & Platinum combination or an all Platinum ring.
See for yourself how diamond characteristics affect beauty. Then, our Diamond Specialists will help you select the diamond whose characteristics best match your priorities and whose cut explodes with an endless sparkle in the candlelight. Already have a gem that you'd like to set in the Luna Ring? Then, it would be our pleasure to facilitate that dream for you.
Our Luna ring can be made with the following metals:
Our signature 18k yellow gold and Platinum Two-Tone
14k yellow & white gold
14k rose gold & Platinum or white gold
All Platinum
Visit our showroom nestled in the heart of the Freeport, Maine outlets, or shop more of our Signature Collection online.