Description
LABRADORITE SHIFT
Bring the colors of the sky at dusk to life with the Labradorite Shift. Sculpted in sterling silver and showcasing a centerpiece of inlaid labradorite. Undulating tones of blue, green, purple, and black play against the natural grain of the material, revealing nature's majesty. The Labradorite Shift is offered on an antique finish sterling silver chain, and featuring an engraving plate on the reverse for personalization.
FEATURES & SPECS
Pendant is .9″ tall x .56″ wide x .14″ thick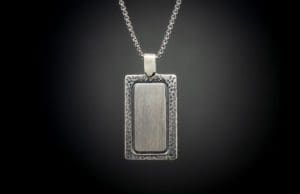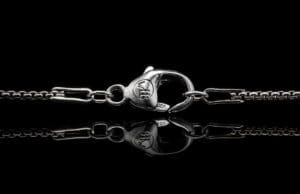 STERLING SILVER
Sterling silver is an alloy of silver containing 92.5% by mass of silver and usually 7.5% by mass of copper. The sterling silver standard has a minimum millesimal fineness of 925. The sterling alloy originated in continental Europe and was being used for commerce as early as the 12th century in the area that is now northern Germany. William Henry uses the latest state-of-the-art casting equipment to create mesmerizing pieces that are often considered par with our hand-carved work.
LABRADORITE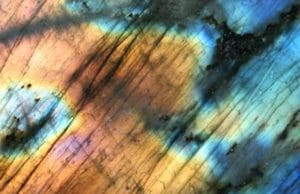 Labradorite is a feldspar mineral that is most often found in rocks such as basalt, gabbro, and norite.
Some specimens of labradorite exhibit a schiller effect, which is a strong play of iridescent blue, green, red, orange, and yellow colors as shown in the photographs. Labradorite is so well known for these spectacular displays of color that the phenomenon is known as "labradorescence"
William Henry uses specimens with the highest quality labradorescence as gemstones in our collections of jewelry.
William Henry earned its fame for creating exclusive and award-winning pocket knives, and transforming the archetype of all tools into a superb piece of functional jewelry. The William Henry Collection also includes jewelry, writing instruments, money clips, cuff links, and key chains.
The seamless integration of classic natural materials, precious metals & gemstones, and state-of-the-art alloys is a hallmark of William Henry's work. But what makes this brand so distinctive is that it has proudly retained the aura and feel of an artisan workshop, where most pieces are designed and created exclusively in limited, often unique editions.
Visit us in our 

Freeport, Maine showroom

 to see our full collection of 

William Henry gifts

 including Pens, Knives, Money clips, and Men's Jewelry.