Description
'Forest Grove' features a light and resilient frame in aerospace grade titanium, inlaid with a beautiful piece of orange spalted beech wood. The blade hand-forged 'Intrepid' Damascus steel by Chad Nichols. The one-hand button lock and the thumb stud are set with citrine gemstones.
A remarkable design that gives you an instrument with a full-size secure grip, and a versatile deep-belly blade, the Spearpoint epitomizes William Henry's core philosophy – that superlative function deserves to be elevated to superlative art.
The 'Forest Grove' features some of the exotic materials and hand-forged metals that are the hallmark of William Henry's collections; a distinctive personality statement to be worn and used for a lifetime. #350815
MATERIALS & ARTISTRY
Hand-forged Damascus
Titanium
Beech Wood
Citrine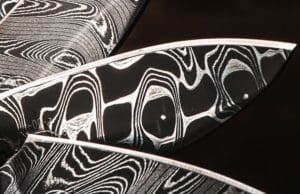 Damascus steel was a term used by several Western cultures from the Medieval period onward to describe a type of steel created in India and used in swordmaking from about 300 BC to 1700 AD. These swords were characterized by distinctive patterns of banding and mottling reminiscent of flowing water. Such blades were reputed to be not only tough and resistant to shattering, but capable of being honed to a sharp and resilient edge. William Henry's Damascus is made is made from several types of steel welded together to form a billet.
The patterns vary depending on how the Damascus artist works the billet. The billet is drawn out and folded until the desired number of layers are formed. William Henry Damascus billets are forged with a minimum of 300 layers. William Henry works with a handful of the very best Damascus artists/forgers in the U.S.
FEATURES & SPECS
One-hand button lock system
Leather carrying case
Shipped in an elegant wood presentation box
Dimensions:
Blade 3.06″ (77.7mm)
Handle 4.13″ (104.9.5mm)
Overall open 7.19″ (182.6mm)
Number in Edition: 61 of 500
Visit us in our Freeport, Maine showroom to see our full collection of William Henry gifts including Pens, Knives, Money clips, and Men's Jewelry.