Description
Brown Goldsmiths' own Compass Rose pendant, in 14K gold, featuring a single diamond in the center. The sparkling diamond is safely held in place with bead like prongs. Available in 14k Yellow, White and Rose gold or 18k by special order.
Personalize the Compass Rose. Choose a gemstone that is meaningful to you to be set into the center. Maybe the birthstone of a child. Maybe a gemstone from your state. Maine is lucky we have a few! Or maybe its a gem you already own and want to set. We'd love to help you create a Compass that celebrates what's important to you. We make it personal!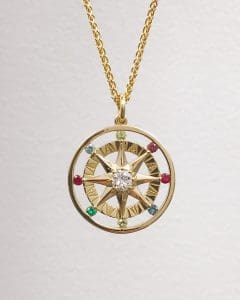 Here is an example of our Large Compass as a Mother's pendant, representing all of her family with birthstones. A One-Of-A-Kind family heirloom in the making.
Browse our Signature Collection further or visit our showroom nestled in the heart of the Freeport, Maine outlets to see so much more.