Description
Bisbee – Bolt II Collection
The Bolt II Bisbee is a sleek and elegant pen that writes beautifully, carries comfortably, and catches the eye. The Bolt II Bisbee features the William Henry bolt action mechanism, inspired by bolt action rifles, which locks open and spring releases closed – and yes, it's a lot of fun to play with. The barrel is crafted from 'Zinc Matrix' turquoise, and trim accents are all in stainless steel. Both the thumbstud (on the bolt action system) and the top of the pen are inlaid with white topaz gemstones. Modern mechanics, clean lines and timeless craftsmanship.
FEATURES & SPECS
Specifications:
Frame: Stainless steel
Length: 5.5″
'ZINC MATRIX' TURQUOISE

The Kingman Turquoise Mine in Arizona is one of the oldest and highest producing Turquoise Mines in America. It was originally discovered by prehistoric Indians well over 1,000 years ago. Kingman Turquoise is known for its beautiful sky blue color and produces many variations of blue Turquoise.
Our Zinc-Matrix Turquoise is made with Kingman Turquoise infused with zinc, creating a striking contrast between the soft blues of the Turquoise and the shiny, contemporary look of the metal.
WHITE TOPAZ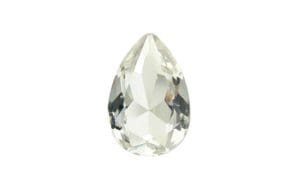 Topaz is a rare, extremely hard gemstone with an exceptionally wide color range that, besides brown, includes various tones and saturations of blue, green, yellow, orange, red, pink, and purple.
The ancient Greeks believed that topaz gave them strength. In Europe during the Renaissance (the period from the 1300s to the 1600s) people thought that topaz could break magic spells and dispel anger. For centuries, many people in India have believed that topaz worn above the heart assures long life, beauty, and intelligence.
Today, topaz is one of the US birthstones for November, while turquoise is one of the birthstones for December.
Visit us in our Freeport, Maine showroom to see this Bisbee Pen as well as the rest of our full collection of gifts including Pens, Knives and Money clips.