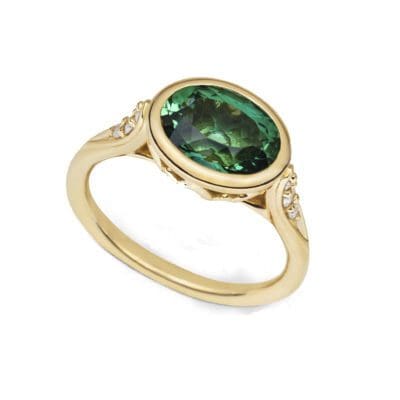 The Concerto Ring
Options
Available in Rose Gold with Peach Sapphire.
Price
$4575 with Oval Green Tourmaline
Designer
Brown Goldsmiths
About This Piece
One of our newest, the Concerto Ring, designed in celebration of our 50th Anniversary.
Shown with a vibrant green tourmaline, in shinning 18 karat yellow gold. The central gemstone is the star of this celebratory piece with brilliant cut diamonds accenting its beauty and fine details. #160442
The Concerto Ring can be made with almost any gemstone. Imagine your favorite gemstone shape and color or see some of our favorites with Blue Zircon and Tanzanite.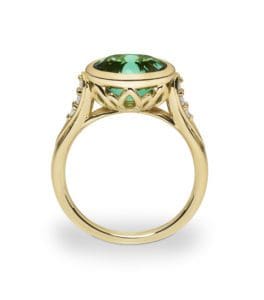 TOURMALINE
Green: the color of life, renewal, nature, and energy.

Tourmaline occurs throughout the world. The United States has been a major contributor to tourmaline's popularity. During the early 1900's, Maine and California were the world's largest producers of gem tourmalines. California is known for pink tourmaline and Maine is known for sherbet-colored and mint green-colored tourmalines and the watermelon tourmaline which displays both pink and green.
Today, Brazil produces the largest volume of this gemstone, as well as the widest color variety for a single location.
Although green is the most common hue, tourmaline naturally occurs in virtually thousands of shades, tones and color combinations—more than any other gemstone.