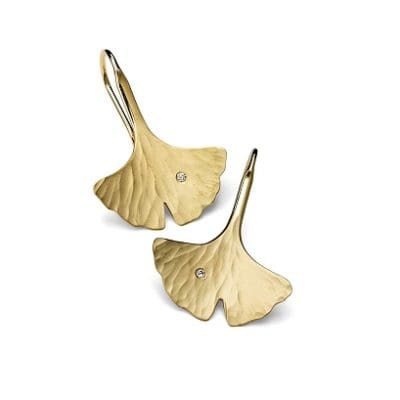 Ginkgo Leaf Earrings with Diamonds
Options
Available in EcoSilver with Diamonds
About This Piece
Ginkgo Leaf represents longevity, balance, strength, hope and good health. With its unique and beautiful fan shape it's understandably the subject of a great deal of art. The Ginkgo Leaf earring is no exception. This hand-hammered earring is an interpretation of one of Asia's oldest symbols. Hand forged from EcoGold and adorned with an ideal cut diamond. They are a bit over 1″ long and approximately 1/2″ wide.
What is EcoGold?
EcoGold is reclaimed Gold that jewelers and designers can feel good about. Be proud of and, most importantly, put pressure on the mining industry. Sending a message that the world cares and is watching how they're treating the planet and its people.
A breakthrough in 2006 and now well-established choice in sustainable fine jewelry.
Meaningful, beautiful and sophisticated. The Ginkgo Leaf earring is available in Silver or Gold with or with out diamonds. A great gift for the nature lover or the earring fan.
#201220
Pay us a visit in our showroom located in the heart of the Freeport Outlets to see this pair or continue shopping earrings.
Pssst…don't forget to ask us about our Earring Club!