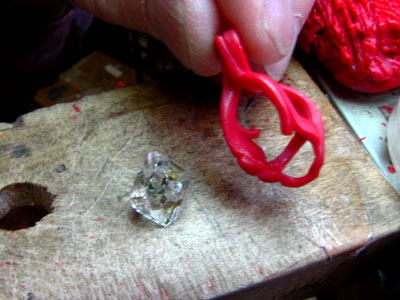 Turning Wax Into Gold: Mold-Making
Turning wax into gold –
Here's a glimpse of some of our behind-the-scenes handiwork. Master model maker, sculptor, and designer are a few of the roles we play in the workshop every day. In addition to artistic flair, engineering plays a crucial role. Frequently a jewelry creation is designed to highlight and securely hold a special gem. The quartz crystal featured in this pendant design offers many a challenge: all those angles!
Here the wax model is nearing completion, leading up to a cire perdu or lost wax casting process. Molten gold will replace the wax shape, transforming the sculpted form that we crafted in wax into gold. The goldsmiths will finish the pendant – polishing and skillfully setting the gem(s). The Ridge Ring is another design we make using wax. Each ring, carefully carved to perfectly fit the gems we are setting before turning wax into gold.
If you'd like to learn more, call ahead when planning to be in our neighborhood. If scheduling permits, we might be able to offer a tour of our upstairs workshop…where jewelry-making magic happens!
Visit our showroom nestled in the heart of the 

Freeport, Maine

 outlets

to see more of our jewelry created with wax.