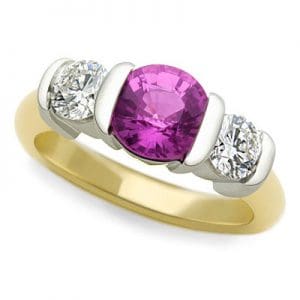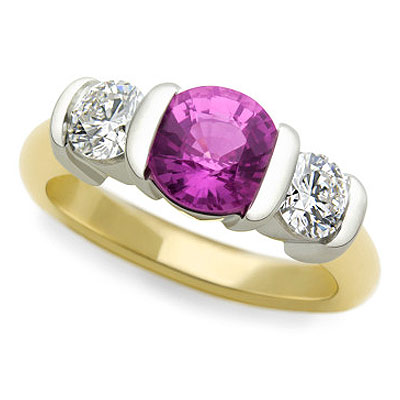 The Ridge Ring was originally designed in the mid-1980s with the intention of creating a durable and versatile piece of jewelry for active wearers. Our goal was to create a ring that could be worn all day, every day, without worrying about catching or snagging on clothing or other objects. To achieve this, we utilized a prong less setting method where the diamonds are set within the bars or "ridges" that separate them. This design feature makes the Ridge Ring mitten and blue jean friendly, comfortable to wear every day.
Due to its timeless appeal and durability, the Ridge Ring has become one of our most cherished designs. It is available in all yellow gold, all platinum, or a combination of the two, allowing for various customizations to suit individual tastes. However, due to the unique setting method, only diamonds and the hardest of colored gems can be set in the Ridge Ring. These gemstones include Sapphires, Rubies, Spinel, and Alexandrite. We take pride in our craftsmanship and are confident that the Ridge Ring will be a treasured addition to any jewelry collection.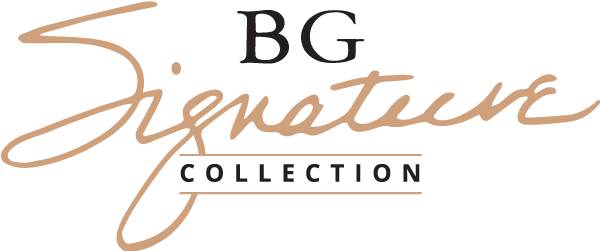 The Original Ridge Ring
Three round diamonds in 18k yellow gold.
All Platinum Ridge Ring
This all-platinum Ridge Ring is also an example of a 3-oval shape combination. You can choose a fancy shape like this Oval or an Emerald cut, Cushion, Radiant, or Asher cut diamonds for your own unique version of the Ridge Ring.
Fancy Shape Ridge Ring
This two-tone Ridge Ring is set with 3-cushion shape Diamonds in Platinum with yellow gold band.
Diamond & Sapphire Ridge Ring
Another example of our two-tone Ridge Ring. A classic combination with a Diamond center and blue Sapphires on the side.
The Five Diamond Ridge Ring
The 5 Diamond Ridge Ring can be worn alone as a right-hand ring, a Wedding band, an Anniversary ring, or a custom family ring. Like our three-diamond Ridge, you can also choose an all-gold version in yellow, rose, or all-platinum like the one shown here.
Sapphire & Diamond 5-gem Ridge Ring
So classic! Blue Sapphire and Diamond set in platinum. Perfect every day.
Ruby & Diamond 5-gem Ridge Ring
We love the alternating Diamond and Ruby Ridge Ring in 18k yellow gold. The red Rubies' color in the warm buttery 18k gold is so rich and striking.