Description
TIGER EYE BRACELET
BR24 RTE
Tiger eye moves in the light like no other stone – and in these soft red hues it mesmerizes. The center piece of the Tiger eye identity bracelet is inlaid into a sculpted sterling bracelet, painstakingly hand-polished with a mix of mirror and satin finishes. Features precision stainless button lock clasp, inset with a natural black spinel gemstone. The Tiger eye identity bracelet (center) has space on the back to engrave with a personal mantra, message, date, or whatever completes your story.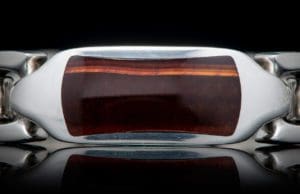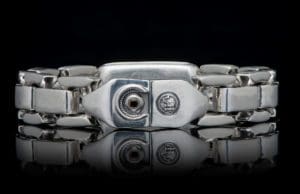 This handsome bracelet is just one style available for him. Check out our William Henry Collection to see more styles and other gifts for him.
Tiger's eye is a chatoyant gemstone that is usually a metamorphic rock with a golden to red-brown color and a silky luster. As members of the quartz group, tiger's eye and the related blue-colored mineral hawk's eye gain their silky, lustrous appearance from the parallel inter-growth of quartz crystals and altered amphibole fibers.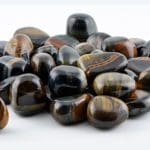 Red Tiger Eye is believed to help enhance confidence and self-esteem. It provides motivation to the non-motivated and energizes those who are feeling lethargic.
Sterling silver is an alloy of silver containing 92.5% by mass of silver and usually 7.5% by mass of copper. The sterling silver standard has a minimum fineness of 925. The sterling alloy originated in continental Europe and was being used for commerce as early as the 12th century in the area that is now northern Germany. William Henry uses the latest state-of-the-art casting equipment to create mesmerizing pieces that are often considered par with their hand-carved work
Visit us in our Freeport, Maine showroom to see this Lancet 'Smoke' knife as well as the rest of our full William Henry selection including pens, knives, money clips, and men's jewelry.