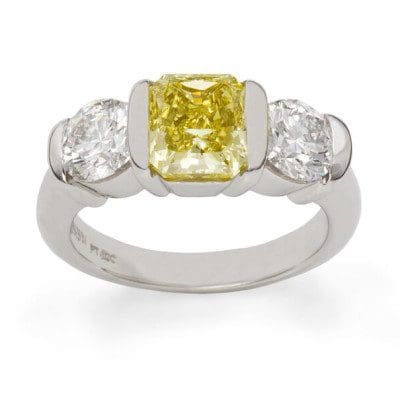 The Ridge Ring © with Natural Fancy Intense Yellow Diamond
Options
Available in Platinum, 18k yellow gold or a combination of both
Price
Call to explore the possibilities
Designer
Brown Goldsmiths
About This Piece
The Ridge Ring – Created to go everywhere and do everything. A Brown Goldsmiths original.

Three brilliant diamonds, a Radiant cut natural Fancy Intense Yellow and two round brilliant whites, are the superstars in this ring. Created to go everywhere and retain its beauty and artistry. The diamonds are set within the bars making this ring prong-less. As we say…it's mitten and blue jean friendly! Perfect for the active person who also loves to sparkle. #010482
The Ridge Ring is one of our most loved designs and a popular choice for re-setting family heirlooms. Also available in our Signature Two-Tone (18K yellow gold & Platinum) combination or in all 18k yellow gold.
Visit our showroom nestled in the heart of the Freeport, Maine outlets to see our full selection of Engagement Rings.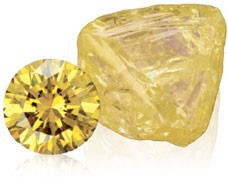 Yellow diamonds look and feel like "Sparkling Sunshine" on your finger.
As member of the Natural Colored Diamond Association we'd love to help you choose just the right shade of yellow that speaks to you. Here is a brief explanation of what makes a diamond yellow and where they come from, courtesy of the NCDIA.
Yellow Diamonds
Yellow diamonds exist from a pale champagne yellow to the extreme of daffodil and sunshine. They account for the largest variety and selection of all the naturally occurring diamonds. Natural Yellow diamonds are also found blending with modifying or secondary shades of brown, orange and green.
Yellow Diamonds are found in most diamond mines around the world. The biggest sources are South Africa, Australia, Canada, and Russia.
Yellow Color Origin
Yellow diamonds are caused by the element nitrogen that is captured in the carbon diamond structure during its development in the earth.
The greater the amount of nitrogen in the right patterns the stronger the saturation and the appearance of the color.
LEMON | DANDELION | CANARY