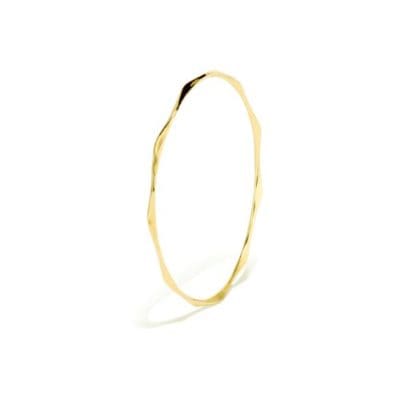 Ripples Bangle
Options
Yellow, White or Rose gold
Designer
Brown Goldsmiths
About This Piece
Ripples bangle, lovingly hand crafted in our upstairs studio.
Hand forged and hammered with multiple facets adding a lovely sparkle to the golds surface. Available in yellow, rose and white gold. Ripples is the lightest weight bangle we create, making it a budget friendly option, in a hand made heirloom quality bracelet. #220547
Bangles are wonderful to grow as a collection or wear alone for a touch of elegance. The most popular number of bangles worn together is 3, but you can stack as many as you like. Choose from simple domed bangles, finished with either a smooth polish or hand hammered surface, or our multi-sided hammered bangles in regular or heavy weight.
Mix and match your stack with the multiple options available.
Domed – available 2-8mm wide smooth or *hammered.
3 sided – round on the inside and softly triangular on the outside.
4 sided – round on the inside with a soft square outer shape.
5 or 6 sided – straight or *tilted
Sizes – available from extra small to extra large and everything in between
Engraving is available for many of our bangles however the Ripples bangle is not engravable. To add a personal touch we can engrave a small gold charm that can be added to your Ripples bangle.
*Hammered: these bangles feature little facets on the surface of the gold, that catch and play with light, providing a subtle yet beautiful sparkle to the surface of the gold.
*Tilted: another option for our classic hand forged multi-sided bangles. The tilt appears to be a wavy , as each side alternates leaning to the left of center and then to the right.
*Sizing: Don't settle for One-Size fits all, we can size you for a perfect fit. Like rings, our bangles are made in many sizes and we can help you determine the right size for your hand & wrist.