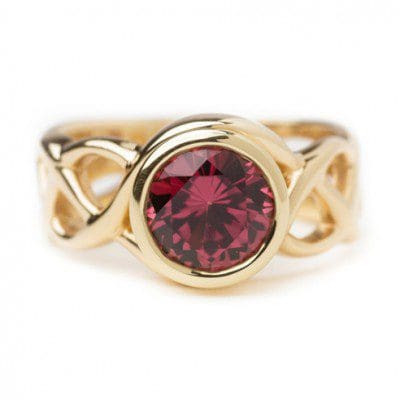 Freeform openwork band
Options
Choose 14k, 18k or Platinum. Currently available with Maine Green Tourmaline.
Price
Call to explore the possibilities
Designer
Brown Goldsmiths
About This Piece
Strands of gold for an freeform weave, an open lattice, reminiscent of Celtic lands. An original from our up-stairs studio, created many years ago, now has found its way back into our showroom. A timeless design that offers endless custom possibilities. Customize this design, your gems or ours, to be made just for you.
Shown with a rare red natural Spinel, bezel-set for added protection. Spinel is a lesser known precious gemstone. Its hardness is like Ruby and Sapphire, making Spinel a perfect choice for daily wear. Spinel naturally occurs in a rainbow of colors, see our gorgeous pink Spinel ring.
In ancient days,spinel was often mistaken for ruby and sapphire. Possibly the most famous Spinel to masquerade as Ruby is the famous 14th century Black Prince's Ruby in the British Imperial Crown.
Currently available with Oval "Maine" Green Tourmaline in 14k yellow gold.
Call us at 1-207-865-4126 or email showroom@browngoldsmiths.com
we'd love to work with you to create your one-of-a-kind design.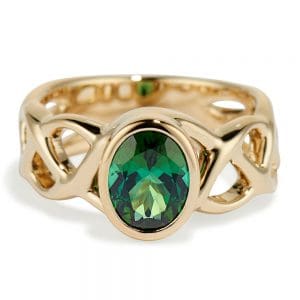 Visit our showroom nestled in the heart of the Freeport, Maine outlets to see our full selection of Engagement Rings and Gemstone Rings.