Lepidocrocite In Quartz and Diamond Crescent Ring
Designer
Brown Goldsmiths
About This Piece
Vault Sale Special: One-of-a-Kind Lepidocrocite In Quartz and Diamond Crescent Ring.
Lepidocrocite In Quartz is a ruby red to reddish brown mineral FeO(OH) consisting of an iron oxide hydroxide that is an important constituent of some iron ores.
This Brown Goldsmiths ring in 14k Rose gold is an artfully designed One-of-a-kind to showcase this amazing Lepidococite.
Originally $2795 now only $1595. #160262
Here is a great example of Lepidocrocite in Quartz.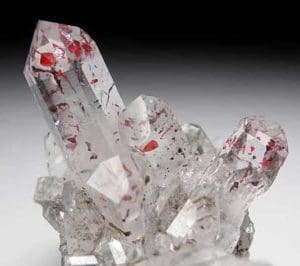 Origin: Goboboseb Mountains, Brandberg District, Namibia
Photo credit: Marin Mineral