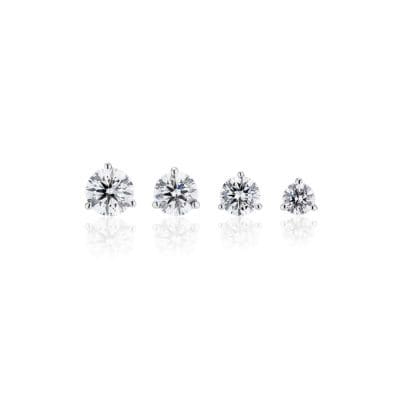 Platinum Diamond Stud Earrings
About This Piece
Platinum compliments diamonds beautifully. We adore the combination. The gray white color appears to make the sparkle of the diamonds more impactful. It is a rare and durable metal that requires less care over time. Platinum is thought to be a symbol of strength, purity and true love.
It is pure, durable, heavy, hypoallergenic and distinguished from all other precious metals. Did you know that as one of the most precious metals, platinum alloys are 90%-95% pure. Platinum is also so dense that a six-inch cube would weigh about 165 pounds. Its a good thing we don't need much in a pair of earrings.
All 3 prong styles in Platinum:
.50 carat weight – $1399
.75 carat weight – $2699
1.0 carat weight – $4499
1.5 carat weight – $7999
For a more ornate setting see our Jubilee Diamond Studs. Or explore more diamond stud options in white gold.
Pay us a visit in our showroom located in the heart of the Freeport Outlets to see our variety of Diamond Stud Earrings or continue shopping earrings.
Pssst…don't forget to ask us about our Earring Club!