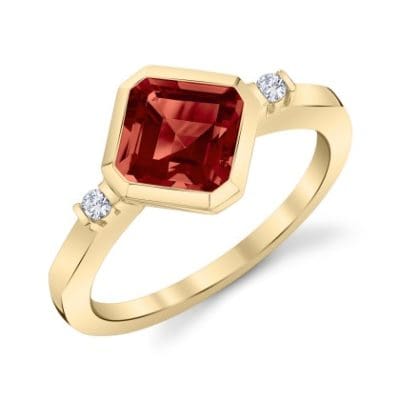 Octagonal Step Cut Garnet ring
About This Piece
Octagonal step cut Garnet, a modern version of a classic style. The Garnet is off set on the band with a small diamond accent on each side to give a bit more sparkle. The bezel center, angular band and bar set side diamond all offer an updated look to this classic combination. #37430-RGA
Garnet, the birthstone for the month of January and the traditional gemstone for the second anniversary.
Garnet
7.0 mm Octagonal Step cut
Approximately 1.70ct.
Bezel set and Bar set
Accented with two diamonds .06cttw
14kt Yellow Gold
Matching earrings available
The matching earrings are more of a complimentary style, in a simple, bezel set stud. All color and no diamond. Octagonal Step cut Garnet – 5mm 14k yellow gold stud earrings. $595
Garnet has a 6.5-7.5 rating on the Mohs scale of hardness. The Mohs scale of hardness is a measure of how resistant a gemstone is to scratching. Diamonds measure a 10 on the Mohs scale of harness so they can only be scratched by another diamond but a fingernail, only a 2.5 on the hardness scale.
Continue shopping our collection of unique gemstone rings online.
Stop in for a visit. We'd love to show you more amazing jewelry in our our Freeport, Maine showroom. Right in the heart of downtown Freeport, Maine.