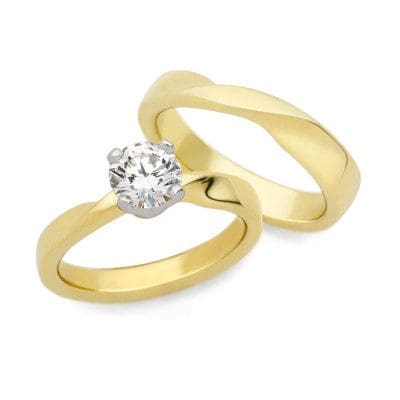 Mobius Twist© Engagement Ring and Wedding Band
Options
14k yellow, white & rose gold, 18K yellow or Platinum
Designer
Brown Goldsmiths
About This Piece
Mobius Twist: a symbol of the infinite.
Pictured is the 18k yellow gold Mobius Twist Engagement Ring and Wedding band combination. The engagement ring, set with a 3/4ct diamond, has a 4-prong platinum setting and is accompanied by a slightly wider wedding band.
This symbol of the infinite is available in a variety of widths from 2.5mm – 7mm. Choose in 14k yellow, white or rose gold, 18k Yellow gold or Platinum.
Where did the Mobius come from? In the 19th century, Mathematician August Mobius discovered this geometric oddity – an endless surface with only one side and one edge. Inspired by this symbol of the infinite, our Mobius Collection reflects the mysterious oneness of two.
Shop our Mobius online or Visit our showroom nestled in the heart of the Freeport, Maine outlets.